Partagas 1845 – Cigar Review
Today I am reviewing a cigar that comes with a lot of heritage and history. It has been 167 years since the start of Partagas. The brand is, without a doubt, one of the most well known and popular lines of cigars in production. Partagas 1845 features an Ecuadorian Habano wrapper, a first for a Partagas cigar. General Cigar Co is doing a lot for this release, they have created a new Facebook page, on which they have contests giving out Limited Edition Humidors and whiskey stones. They also established a new twitter to follow to stay up to date on the new Partagas (@enjoypartagas).
Size: 5 1/2 x 49
Wrapper: Ecuadoran Habano
Binder: Connecticut Habano
Filler: Dominican rum barrel
Strength: Full
Body: Medium – Full
Flavor: Full
Cigars Smoked For Review: 1
Construction and Appearance: The wrapper is a very dark brown, with some light veins. The Partagas 1845 ends in a small triple cap and the band has a very attractive gold eagle. It is well constructed with no visible defects.

Flavor and Notes: The foot of the Partagas 1845 has a rich blend of spices, hay, and light earth. After smelling the foot, my nose started to tingle lightly. The wrapper by contrast has a clean hay scent, with a slight sweet cocoa smell. On the cold draw there is again a mix rich of spices, and a bit of earth and hay.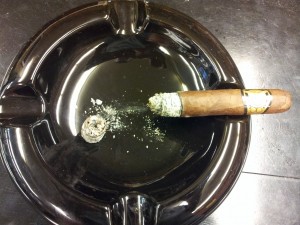 Smoking Characteristics: The Partagas 1845 lights up with a rich pepper, a bit of cocoa, spice, leather, and a bit of woody flavor. A bit into this first third a sweet mineral flavor starts to develop as well, but it is a bit salty. The flavors are very rich, fairly complex, and wonderfully blended. The draw does start out a little tight, but improves during this third. The burn is excellent with a great ash which holds well.
In the second third the sweet mineral flavor develops more fully, and becomes very rich. The pepper kicks up a bit, and then notes of leather, wood, cocoa, and earthy flavor develop as well. The richness of the flavor has increased, and the complexity kicked up a notch. The draw is now perfect, effortlessly producing a full body of smoke with each draw. The strength at this point is heading towards full, yet not quite there yet.
During the final third the smoke becomes a bit dry but still very rich. The flavor shifts a bit in this profile, the cocoa fading, and the earthy, mineral, and woody flavors really take over the profile. The flavor is still well balanced, rich, but a tad less complex. The flavor remains steady, but near the end a bit of pepper joins the profile again. The strength really develops to full during this third.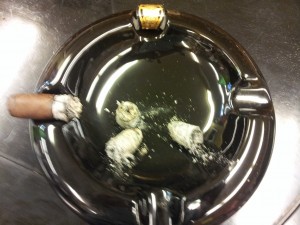 Conclusion: I generally do not hold high expectations for big box brands. That being said, the Partagas line is generally an exception to that rule and has put out some nice lines including the 150, Benji Master's Series, and to some extent, the 160. The Partagas 1845 has impressed me. The mineral flavors may not appeal to some, but were very appealing to me. The cigar is rich, complex, well blended, and delicious. I would say this is an after meal cigar due to its strength and is certainly a great stick. Put this on your must try list.
Rating: 92
MSRP: