Rocky Patel Edicion Unica May 28th, 2011 – Cigar Review
The Rocky Patel Edicion Unica was released to commemorate the 2011Honduran cigar festival, Humo Jaguar. The Rocky Patel Edicion Unica is a Honduran puro which is a requirement to participate in the Humo Jaguar festival. This cigar was the 15th release from Rocky Patel in 2011 and only 50,000 cigars were released. You can keep up to date with all of Rocky Patel's new releases, learn about the company, and of course the man himself, on their website here. Don't forget to check out their Facebook page and follow them on twitter as well (@RockyPatelCigar)
Size: 6 x 52 (toro)
Wrapper: Honduran Jamastran
Binder: Honduran
Filler: Jamastran and Talanga Valley ligero
Strength: Medium to Full
Body: Full
Flavor: Full
Cigars Smoked For Review: 1
Construction and Appearance: The Edicion Unica has a milk chocolate colored wrapper, is slightly toothy, and has a generous triple cap. The wrapper feels slightly rough to the touch. The cigar is well packed with no visible defects or flaws.
Flavor and Notes: The wrapper has a very crisp clean scent with notes of cocoa and hay. The foot of the Edicion Unica has notes of cocoa, nuts, hay, earth, and a light spice. On the cold draw there are flavors of sweet earth, hay, and a bit of cedar.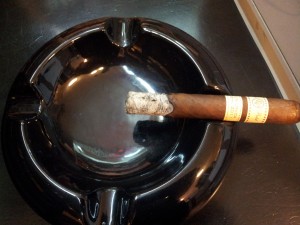 Smoking Experience: I start off the Edicion Unica with a V cut, which I have been favoring lately. The Rocky Patel Edicion Unica starts out with a bit of cedar, earth, nuts, hay, a light sweetness, and an underlying pepper flavor. The draw starts off a bit tight, possibly because I used a v cut, but it opens up during the first third. The smoke is a bit dry, yet rich, cool, and creamy. It tunnels a little bit during the first third, and requires a single correction.
In the second third the nutty flavor increases, and it becomes slightly creamier. There is still a good cedar flavor, and the pepper spice eases slightly. At this point the flavor of the Edicion Unica becomes very rich, more complex, and extremely well blended. The smoke has a dry finish on the palate while warming it nicely. The burn took no additional corrections and a bit of spice/pepper begins to play into the profile towards the end of this third.
In the final third the cocoa flavor builds, while the notes of nuts, cedar, and earth remain. The burn and draw are absolutely perfect now. The strength is medium, but closer to full. The peper/spice is dominated by the cocoa but creates a wonderful backdrop to the entire expreience. The flavor remains delicious, but is a little less complex now.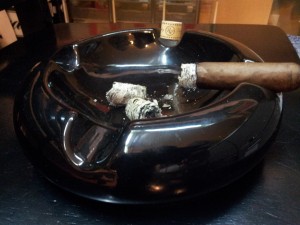 Conclusion: The Rocky Patel Edicion Unica makes a strong case for Honduran puros. It is delicious and fairly complex. The overall tastes are dry and distinct. The strength is medium and develops to close to full, but never quite gets there. This was a very enjoyable cigar and has been fairly popular among smokers I have spoken to. It definitely fits nicely with other Rocky Patel blends.
Rating: 89
MSRP: $6.49