Flor De Las Antillas by My Father Cigars – Cigar Review
My Father Cigars recently shipped their newest creation to retailers, Flor De Las Antillas. The Flor De Las Antillas seems to be to me part of an effort to fill the few niches in the My Father Cigars lineup. This, to me, is evidenced by the fact that they also recently released the Jaime Garcia Reserva Especial CT Edition. You can follow My Father on Facebook, and you can follow Janny Garcia on twitter (@JannyGarcia) and Jose Ortega (My Father VP of sales) on twitter at (@JoseMyFatherCig).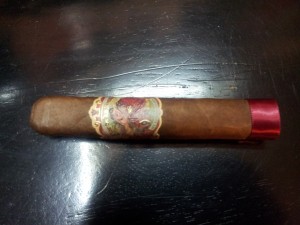 Size: Robusto (5 1/2 x 50)
Wrapper: Nicaraguan Sun Grown
Binder: Nicaraguan
Filler: Nicaraguan
Strength: Medium to Full
Body: Full
Flavor: Full
Cigars Smoked For Review: 4
Construction and Appearance: The Flor De Las Antillas is simply beautiful to look at. The elegant band jumps at you and just staring at it, I'm getting excited to light it up. In fact it was hard to remember to take photos before doing so. The wrapper is a light brown that has just the slightest reddish tint to it. It is a slightly rounded box press and firm in hand. While holding the Flor De Las Antillas it also simply just feels right  in your hand, like I've found many box presses to feel. The band on the Flor De Las Antillas is even more impressive. I've smoked four so far before writing this review and have saved each one. The picture seems to be a beautiful painting of what appears to be two women working with tobacco leaf on a tropical island. Above the two women is written "Flor De Las Antillas", and below "My Father Cigars". There is also a nice red ribbon at the foot of the cigar.

Flavor and Notes: The wrapper of the Flor De Las Antillas has notes of wood and espresso. The foot also has notes of wood and espresso, but combined with a bit of hay and cocoa. I decided to go with a v-cut down the rounded or longer end of the box press for this cigar. This way of cutting box presses was shown to me by a AJ Fernandez rep, and has become a favorite of mine when smoking box presses. The cold draw produces flavors of cocoa, wood, natural tobacco, and espresso.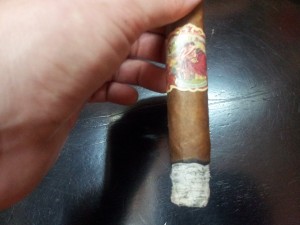 Smoking Experience: As soon as I touch flame to the foot of the cigar and take my first puff I was immediately impressed with the draw. The draw is astoundingly easy while still producing a very full body of rich, cool, dry smoke. The first draw produces a lot of woody flavors which are not at all spicy, along with notes of cocoa, some roasted nuts, and just some light black pepper.  The wood flavor lingers on the palate long between draws. About half way into this third, the espresso notes I detected on the cold draw, wrapper, and foot finally start to emerge into the flavor profile. The burn became a bit uneven in the first third on the one smoked for review, but not enough to require correction or the others I have smoked.
Into the second third the light black pepper undertone fades completely. The light woody flavor, roasted nuts, and cocoa flavors remain consistent, but the espresso flavor increases and takes on a bit of sweetness. The flavor is very rich, balanced, well blended, and somewhat complex. I'd place the strength at just a hair over medium, which is a bit under what I've heard this cigar has been billed as. The burn evens itself out in this third without any correction . The burn line is nearly razor sharp with a wonderful firm ash. The draw is still simply amazing,. I wish every cigar smoked like this, each puff easily producing a full body of rich, cool, creamy, delicious, dry smoke. The wood flavors still linger on the palate in this third, but are joined with a bit of a dry cocoa powder. It is interesting how much this cigar is causing me to salivate as I smoke it.
From the final third down to the nub there really isn't anything more to say about this smoke. I just sat and enjoyed the ride. The flavor is pretty much an exact clone of the middle third, as is the draw and burn. It smokes fairly cool all the way down to the nub with no complaints.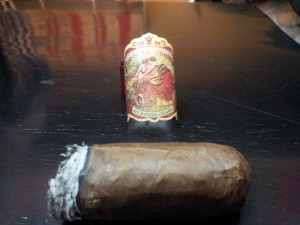 Conclusion: The Flor De Las Antillas scores high in a lot of departments that one judges on. It has a wonderful esthetic appeal not only in the wrapper, but also the band, the box, just everything about it. I would bet at most B&Ms this will become an eye catcher. It also performs wonderfully in construction, with the burn and draw requiring no attention at all in 3 out of the 4 sticks I've smoke so far. Even on the one that did, it was just a slight correction since I can be a burn freak at times. In my opinion the flavor was excellent, it is a profile I truly enjoy. It was well balanced and blended, even slightly complex. The only thing missing in this cigar was an evolution that I anticipated but never happened. Does that make it a bad cigar? Certainly not. While the profile may be predominantly only one note, so to speak, it is a wonderful note. Anyone who enjoys the aforementioned flavors in a full bodied, medium strength format would find this cigar a must have. I would recommend trying this stick to many smokers.
Rating: 90
MSRP: $6.99