Padron Family Reserve #45 Nat – Cigar Review
Padron's mission is "Striving to create cigars worthy of special times".  The Family Reserve series is the pinnacle of this mission. They have released in series 10 count boxes of box pressed cigars to commemorate a significant family date or event. Nicknamed the "Little Hammer" these cigars are made in limited production with tobacco which has been aged for 10 years. These cigars retail at around $26 a stick, yet even at that price I know of several smokers who pick them up regularly due to the fact that they never fail to please. 
Size: 6 x 52 (Box pressed toro)
Wrapper: Nicaragua (Aged 10 Years)
Binder: Nicaragua (Aged 10 Years)
Filler: Nicaragua (Aged 10 Years)
Strength: Medium – Full
Body: Full
Flavor: Full
Cigars Smoked For Review: 1
Construction and Appearance: The Padron Family Reserve #45 natural is simply beautiful to look at. I'm not sure what it is about box pressed toros, but they always just feel natural in hand. The wrapper of the "Little Hammer" is a beautiful golden brown color with almost no veins. The band says "Family Reserve 1965" with the hammer laying in the middle of the date.
Flavor and Notes: The wrapper of the Padron Family Reserve No. 45 Natural has the scent of sweet hay, with a bit of cocoa, and coffee. The foot has this scent of rich spices which causes the nose to tingle almost instantly, these spices are joined by notes of coffee, hay, and sweet nuts. To smoke the "Little Hammer" I go with a V-cut on the side of the box press. On the cold draw there is a rich blend of spices, hay, and a bit of cocoa.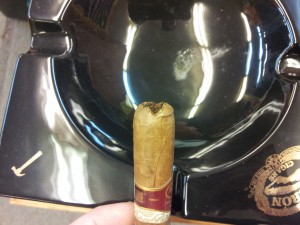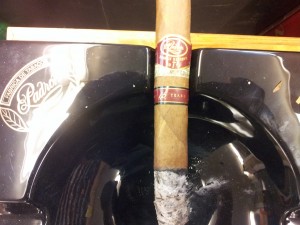 Smoking Experience: Upon lighting the Family Reserve #45 I'm met with a rich blend of pepper, cedar, and leather. The pepper is overpowering at first, taking over my palate quickly. Thankfully for me the pepper fades out quickly to make way for a fantastic blend of complex rich flavors. In the first third there are notes of hay, sweet nuts, spice, and deep earthy notes. The flavor is rich, complex, well blended, and balanced. Some of the initial pepper still lingers on the palate between draws with the spices. The draw is fantastic, each puff easily producing a full body of rich smoke. The burn line holds razor sharp at the end of the stick, never faulting, with a solid ash.
Going into the second third the flavor starts to develop even more fully. The notes of cedar, leather, spices, and sweet nuts all remain, and are very well balanced. During this third some coffee and cocoa joins the profile as well lending to the complexity of the blend and taking me to another world where only me and this cigar exist. The strength sits a bit above medium, with the most appreciable buzz setting in. On the retrohale there is a strong burn, one that I would expect from a cigar with much more strength.
Into the final third there isn't a lot of evolution to the flavor, yet that is hardly a complaint. When a flavor is this delicious and complex I hardly want it to change. All the notes of cedar, leather, nuts, coffee, and cocoa remain. The coffee and cocoa gain a bit more intensity, but do not overtake the other flavors. The blend is simply superb. I smoke the "Little Hammer" all the way down to the nub. I don't know if you really can put a price tag on almost 2 hours of bliss, but to me $26 is worth it.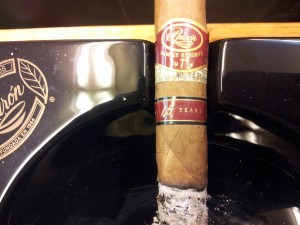 Conclusion: I really can't count the times I've been asked if any cigar over $10 is worth it. In the world of premium cigars there really are two classes, premium and limited. Limited cigars made with aged and rare tobaccos are in a class of their own. The buzz seems a bit more mellow, somewhat more refined. The "Little Hammer" is a great example of this. It is complex, rich, balanced, and perfectly blended. While sticker shock may scare some smokers away from blends in this price class, it really shouldn't. These aren't meant to be every day smokes, they are meant to be saved for special occasions. By the way, thanks for reading and for reviews like this one, I can tell you that I love my job!
Rating: 96
MSRP: $26