Jose Seijas Signature – Cigar Review
One of the admired Master Blenders of the industry, Jose Seijas, retired recently.  I was curious after smoking the recently introduced Vegafina by Jose Seijas about the original Seijas Signature. I picked up a perfecto and found a real gem. Never having met Jose, if given the chance, I would love to shake his hand.
Size: 6.5 x 48
Wrapper: Ecuador
Binder: Dominican
Filler: Dominican, Nicaraguan, Peruvian
Strength: Medium
Body: Medium
Flavor: Full
Cigars Smoked For Review: 1
Construction and Appearance: The Jose Seijas Signature perfecto is simply beautiful to look at and feels great in hand. The construction is excellent, the wrapper is a medium brown color, slightly reddish, but very close to milk chocolate. It has a very tight excellent cap, and little veins, a real beauty.
Flavor and Notes: The wrapper of the Jose Seijas Signature perfecto has notes of very sweet milk chocolate and hay. It is very crisp and clean, making me salivate slightly. The cold draw produces notes of hay, earth, and lots of rich cocoa.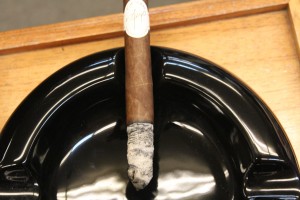 Smoking Characteristics: The draw on the Jose Seijas Signature perfecto starts out slightly tight, which is not unusual for a perfecto. Once the draw opens up the flavor is wonderful. There are notes of sweet cocoa, milk chocolate, and hay. The smoke is very creamy, and almost impossibly smooth. The draw is excellent once you smoke past the perfecto foot, easy, and fairly full in body. The strength is just a hair over medium, and an excellent mellow buzz sets in quickly.
The second third is just as delicious as the first. All of the notes of cocoa, milk chocolate, and hay remain, but the grassy hay flavors intensify. It is still just very smooth, creamy, rich, well blended, balanced, and delicious. The draw is still easy, and each puff produces a full body of smoke. On the retrohale there is a slight burn, not too harsh without a doubt medium strength. Towards the end of this third a bit of coffee flavors join the profile as well.
Into the final third the notes of milk chocolate, cocoa, and hay all persist. A rich note of espresso has been added as well, and blends in wonderfully. The hay flavor has reduced somewhat, but is still a strong note in the flavor profile. The body is still very full and the flavor delicious.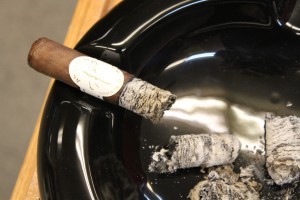 Conclusion: Jose Seijas is certainly a master blender. This stick is excellent, and provides everything you would want in a fine cigar. It is smooth, creamy, balanced, and blended. The flavors are wonderful, and fairly complex. The strength sits right around medium, maybe just a hair over, and gives that mellow buzz that I have come to associate with fine cigars.
Rating: 92
MSRP: $10.30