PDR 1878 Reserva Dominicana Capa Habana Robusto – Cigar Review
PDR's 1878 Reserva Dominicana Capa Habana, or PDR Blue Label for short, was the second Dominican Puro, the first being the Capa Oscura, to be released by the PDR factory. Pinar Del Rio is not a company I am shy about talking up to smokers. The reason is they make a fantastic product at a very reasonable price point, as Abe intended. The 1878 lines are a great example of this, and come in every variety a smoker could desire. The lines include the 1878 Reserva Dominicana Capa Oscura, the 1878 Cubano Especial Capa Madura, and the PDR 1878 Cubano Especial Capa Natural, all of which we have reviewed here at A Cigar Smoker. Each line also has pretty much every size a smoker could desire!
Size: 5 x 52
Wrapper: Dominican Habano
Binder: Dominican Criollo '98 and Habano seed
Filler: Dominican Corojo, Habano, and Criollo '98
Strength: Medium
Body: Full
Flavor: Full
Cigars Smoked For Review: 1
Construction and Appearance: The PDR 1878 Capa Habana has a medium brown wrapper with a slightly reddish tint, it has almost no veins, and a light oil gloss. The cigar features a Pig Tail cap and a closed foot. It has two bands, the first saying PDR 1878 Reserva Dominicana, the second Capa Habana, both bands are Blue and silver, hence the term PDR blue label.
Flavor and Notes: The wrapper of the PDR 1878 Capa Habana has the scent of sweet hay with notes of toffee or butterscotch and a bit of pepper. Rather than opting to use the pig tail I went with a straight cut. I often find pig tails unsatisfactory for draw purposes when smoking, however I do find them aesthetically appealing. On the cold draw there is a bit of pepper, butterscotch, and hay.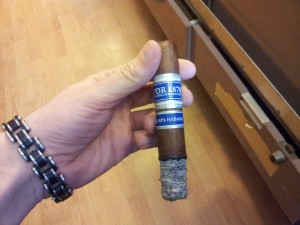 Smoking Experience: The PDR 1878 Reserva Dominicana Capa Habana lights up with a bit of pepper and spice. This pepper and spice lingers on the palate after the first few draws along with a light mineral flavor. The pepper dies down a bit into the first third and becomes a mix of cayenne pepper, pepper, and cedar spice. Notes of butterscotch and toffee also join in after the first few puffs. The draw is excellent, with a very full body of smoke being produced on each puff. The strength sits right around medium with a light mellow buzz starting to set in quickly.
During the second third the burn is razor sharp, and the Capa Habana is holding an excellent ash. The flavor consists of notes of cayenne pepper, cedar spice, light spices, and a mix of toffee or butterscotch. The draw is still excellent producing a full body of rich, cool, smooth smoke. The flavors and delicious, rich, and lightly complex.
Into the final third the cayenne pepper dies completely out of the flavor profile. This leaves the notes of cedar spice, butterscotch, and a little mineral flavor to all mingle together. The draw and burn remain excellent, the ash easily holding past the inch mark. The PDR 1878 Capa Habana smokes cool all the way down to the nub.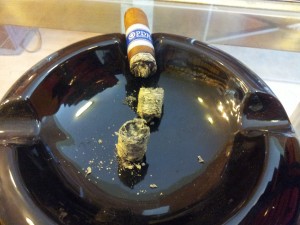 Conclusion: When it comes to cigars it is all about finding quality at a lower price. Most smokers are on the search for their "go to" or "everyday stick". They want something that allows them to enjoy a fine cigar, without impacting their wallet too much. PDR's 1878 lines can help a lot of smokers fill that void. The Capa Habana was rich, delicious, well blended, and best of all, affordable. If you enjoy a good habano this cigar is a must try, but if you lean more towards oscuro, or maduro, or even milder cigars, PDR still has a line for you. This has a very good shot of becoming one of my "everyday sticks".
Rating: 91
MSRP: $5.49