Julius Caesar Churchill – Cigar Review
The Diamond Crown Julius Caesar from J.C. Newman is made by the Fuente Family. It was made to honor J.C. or Julius Caesar Newman, the founder of JC Newman cigars. The Julius Caesar is part of the "super" premium cigar line from JC Newman which also includes the Diamond Crown, and Diamond Crown Maximus. The idea behind a "super" premium cigar is to make the best possible cigar without taking price or time in account during the process. The description from the JC Newman site sums it up well. You can follow JC Newman on twitter (@JCNewmanCigars) also check out their website here.
Diamond Crown JULIUS CAESER honors Julius Caeser ("J.C.") Newman, a true cigar pioneer and founder of the J.C. Newman Cigar Company. Born in a small Hungarian village, J.C. and his family sailed across the Atlantic in 1888 in search of the American Dream.

In 2010 we created a Diamond Crown that honors J.C., whose likeness appears on the cigar label. Diamond Crown JULIUS CAESER cigars are meticulously rolled by hand in small batches by Tabacalera A. Fuente in the Dominican Republic. Flavorful Ecuadorian Havana-seed wrappers, combined with a robust blend of Central American tobaccos, are aged for five years to give JULIUS CAESER its bold, rich distinctive flavor.
Size: 7 1/4 x 52
Wrapper: Havana Seed Ecuadorian
Binder: Central American
Filler: Central American
Strength: Mild to Medium
Body: Medium
Flavor: Full
Cigars Smoked For Review: 2
Construction and Appearance: For this review I went with a Churchill because it is one of my favorite sizes. I enjoy a churchill because it smokes for a long time, yet the ring gauge is small enough you still get a lot of flavor from the wrapper and binder. I don't know if it would be quite possible to overstate how attractive this cigar is. The wrapper is a medium brown with a slight reddish hue and very smooth. It has a bit of oil and very light veins as well. Everything about this stick makes me want to just light it up. The band is equally attractive, very colorful with a marble bust of Julius Caesar and the brand Diamond Crown labeled on it as well.
Flavor and Notes: The wrapper of the Diamond Crown Julius Caesar has notes of hay, leather, and coffee. The foot of the Julius Caesar also has the same notes of hay, leather, and coffee with an added earthy note. I go with a V-Cut since the ring gauge is over 50 and on the cold draw there is some spices, leather, coffee, and a bit of hay.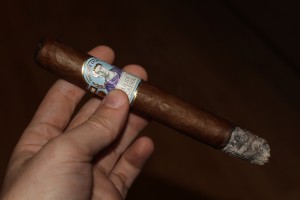 Smoking Experience: The Julius Caesar starts off extremely smooth with flavors of leather, coffee, and hay. There is also a hint of baking spices and black pepper as well. The flavor is very rich, deep, bold, and complex. The strength is somewhere in the mild to medium range. The draw is excellent, easily producing an ample body of rich, smooth, complex smoke. It is hard to describe just how smooth and mellow the smoke from the Julius Caesar is.
Into the second third the spice and pepper fade out of the flavor profile. I'm left with notes of leather, espresso, wood, hay, and earth. There is also now a slight sweetness to the flavor profile with an underlying flavor I can't quite make out. The smoke is still just so rich, smooth, and complex. The burn is the definition of razor sharp, and the ash easily holds well past the inch point. The draw still easily produces an ample amount of smoke, which I would place in the medium range in terms of body. Strength wise it is still very mellow, sitting in the mild to medium category.
During the final third, all of the notes of the previous remain, the leather, espresso, wood, hay, and earth, but the spice and pepper emerge once more as an undertone. The strength also kicks up just a tad during this third to the medium range. The draw still remains prefect, the smoke still smooth, rich, creamy, and complex. It smokes cool to the nub and provided nearly two hours of enjoyment.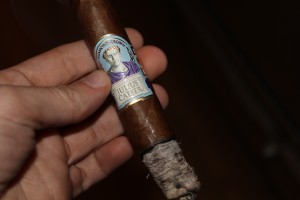 Conclusion: What makes a cigar "Super" premium? It seems to be that not only high quality tobacco is required, but also aging of it. I've had more than a few cigars over the $12 price point, and have enjoyed most of them. I've smoked some sticks billed as high as $30 each. While I would never consider a stick priced over $10 as an everyday sort of cigar, a $12 one isn't bad for a weekly treat. The Julius Caesar does start in that range for the robusto, so I could certainly see myself ponying up for those more often if the smoking experience is the same. Yet, to me anything much more than $12 should be saved for a rare occasion. I think the Julius Caesar Churchill might become one of my rare celebratory go to cigars. It is priced lower than a lot of the other rarer and super premium cigars, yet still provides the excellent rich, smooth, complex flavor that is expected from one.
Rating: 94
MSRP: $15.99