Perdomo Champagne Churchill – Cigar Review
The Perdomo Reserve 10th Anniversary Champagne and the maduro version of it, the Champagne Noir, are in my regular rotation of go-to smokes. My experience with Perdomo cigars is that they are consistent in construction, burn well, and are fairly priced wherever I am shopping for a stick. Yet, for all of this, I find that Perdomo is overlooked by many cigar smokers. I'll ask a friend who I know loves maduros what he thinks of the Champagne Noir and in return I'll receive a blank stare. So I decided it was time to review a Perdomo Champagne Connecticut to get the word out there a bit! On the same note here is Perdomo's website, and here is their twitter (@PerdomoCigars).
Size: 7 x 54
Wrapper: Connecticut Shade
Binder: Nicaraguan
Filler: Nicaraguan
Strength: Mild
Body: Full
Flavor: Full
Cigars Smoked For Review: 1 (Cigars smoked total 30+)
Construction and Appearance: The Perdomo 10th anniversary Champagne has a very attractive light brown wrapper with a nice oil gloss and very thin veins. The wrapper is silky smooth to the touch and ends with a generous cap. Each cigar comes in a gold tinted cellophane wrapper which reminds me of a bottle of champagne, as I'm sure it is intended too. The band says Perdomo Reserve Champagne with 10th anniversary under it. Overall it is an attractive packaging which catches the eye.
Flavor and notes: The wrapper of the Perdomo Champagne has sweet creamy hay notes with a bit of coffee. The foot has notes of hay, coffee, nuts, and is also very sweet smelling. I go with a V-Cut on the Perdomo Champagne Churchill, as is standard practice for me, and on the cold draw there are notes of nuts and hay.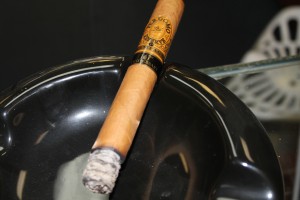 Smoking Characteristics: As I light up the Perdomo Champagne, the first puff produces the sweet, creamy, and smooth smoke that I've become accustomed to. The draw is simply fantastic. In fact, I've yet to smoke a Perdomo with a poor draw. The notes start off with sweet hay, nuts, and some light coffee. The body of smoke on each draw is full, dense, and very generous. The burn is razor sharp and the ash solid.
Into the second third the cigar progresses with the same solid construction. The draw is still excellent with a generous body of smoke, and the ash is still holding firm. The flavor hasn't changed much, still notes of sweet hay, coffee, and roasted nuts. The coffee and nutty flavors have increased a bit, but do not quite dominate the smoking experience. As always the Champagne is smoking very sweet, smooth, and creamy. It really is like champagne except there aren't and bubbles to tickle your nose.
Into the final third the flavor doesn't really change up at all, just becomes a little bit sweeter. The strength is just a hair over medium, with only the slightest burn on the retrohale. The notes of sweet hay, coffee, and roasted nuts still blend together proving an excellent flavor. Each draw still easily produces a full body of thick creamy, smooth, sweet smoke. It smokes cool all the way to the nub without any issues.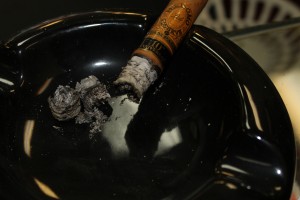 Conclusion: I make no secret that this is one of my regular smokes and one of my favorite go to cigars. I love it early in the morning with my coffee, or taking it on a long hike (really helps with bugs). It is a stick that never fails to deliver in construction or flavor. It is great early morning smoke for the seasoned brothers of the leaf, or a great introductory smoke for a new smoker. It has a nice flavor with smooth, creamy smoke, and a very mild strength. The best part of all is the price is set to where you can smoke it every day.
Rating: 91
MSRP: $6.99