Nat Sherman Omerta – Cigar Review
Last Sunday I met up with Craig Vanderslice from Cigar Craig at JR Cigar. You can read about the place review here. After browsing around the humidor a bit we selected a Nat Sherman Omerta since it was one cigar neither of us had reviewed before. This cigar interested me since I'd never seen it before, and I tend to be a bit of a Nat Sherman fan. Plus, I love maduros. Craig agreed it might be a fun stick to try out, so we picked up a few and headed over to the JR Cigar public lounge since the restaurant was closed.
Size: 7 1/4 x 54
Wrapper: Nicaraguan
Binder: Nicaraguan
Filler: Nicaraguan
Strength: Medium to Full
Body: Full
Flavor: Full
Cigars Smoked For Review: 1
Construction and Appearance: The Nat Sherman Omerta has a very dark maduro wrapper, close to dark chocolate in color. The wrapper is a bit veiny but also fairly oily. The band is interesting, and not the average Nat Sherman band, it has two indians exchanging something over a globe.
Flavor and Notes: The wrapper of the Nat Sherman Omerta has notes of dark chocolate, coffee, and a little spice. The foot also has some notes of cocoa, coffee, spice, and a bit of a woody scent. I go with a straight cut on the Omerta and on the cold draw there is a mix of spice, wood, and a little bit of cocoa.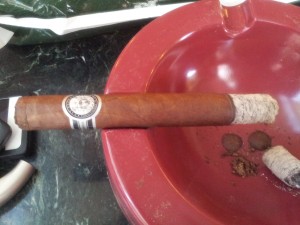 Smoking Characteristics: The Nat Sherman Omerta lights up with a bit of cocoa, coffee, oak, and a lot of deep spice. The draw starts out a little tight, so I do a second cut on the cap since it was so generous. After the second cut, it opens up and provides a full body of rich smoke which is a bit creamy and has a nice mix of spice in it. Each draw leaves a bit of spice and wood on the palate. The strength is somewhere around medium to full, with a nice buzz setting in early on.
Into the second third all the flavors ramp up a bit, but the coffee flavors take over the profile a little. The notes of spice, cocoa, and oak are all still present. The draw is still easily producing a full body of the rich, cool, smoke which has a light sweetness to it. The ash tight and firm easily to the inch point and does not break off too easily. The burn is nearly razor sharp requiring just a slight touch up.
The flavor remains consistent into the final third without much of an evolution. The strength picks up a bit becoming almost full, but not quite there. The construction still preforms amply without too much of a touch up needed on the burn. The ash did break away on its own once, ironically right as I was commenting on how firm and how long it was holding for. It smokes cool to the nub coming in at over two hours of smoking time.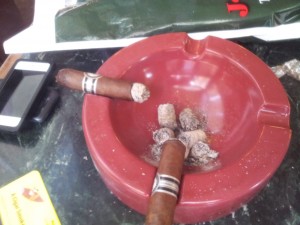 Conclusion: The Nat Sherman Omerta is an good selection with a nice blend of flavors and excellent strength. It held an ash well and required minimal touch ups. The strength was a bit unusual for a Nat Sherman cigar, much fuller in strength than any other Nat Sherman I've smoked to date. It was an excellent offering and fairly priced with a fantastic smoking time.
Rating: 88
MSRP: Bought for $6.75 at JR Cigars