Graycliff Château Grand Cru PG – Cigar Review
Graycliff is one of those cigars that have been around for a while but you don't often hear people talking about them. In fact, for all I've smoked, I've never actually picked up a Graycliff before. I have to admit I was quite curious. The cigars come in excellent packaging and have very attractive bands which catch the eye on a store shelf. Graycliff is one of those truly boutique brands created by a restaurant in the Bahamas, this is what Graycliff has written on its site about itself.
The Graycliff Cigar Company was founded by the Garzaroli Family when Enrico Garzaroli fell in love with cigars but was unable to find that "perfect" cigar to complement what Graycliff Hotel and Restaurant has always been known for: excellent cuisine, fine wines and luxurious accommodations.

The Company began production in January 1997 in Nassau, The Bahamas. What then began as a single roller in the restaurant entrance way has now expanded to an award winning boutique Cigar Company with 16 master rollers, each an expert in their various format.

Graycliff Cigar Company's original blend – The Graycliff – was blended by Master Torcedore Avelino Lara. Once Fidel Castro's personal roller, Lara is famous for his creations at the El Laguito Factory outside of Havana, where he created blends for Cohiba, Davidoff and among others. Since his retirement in 2000, Enrico Garzaroli and Paolo Garzaroli have collaborated on creating all of the new blends manufactured at the award-winning Graycliff Cigar Company from the Graycliff Professionale to the more affordable lines: G2 (available worldwide) and Bahiba (available only in The Bahamas). Each blend is created to please the palate of different cigar smokers – from the buttery Emerald to the smooth and silky Chateau Grand Cru and powerful Espresso.

Graycliff Cigars' numerous awards include: France's Club Cigare's 2001 Cigar of the Year Award; The Robb Report's Best of the Best in 2003 for the Crystal, the Espresso in 2004 and Chateau Grand Cru in 2006; and many accolades from Top25Cigars.com including Best Boutique Cigar Company.

Visitors to The Graycliff Cigar Company in Nassau, Bahamas, in addition to witnessing firsthand the torcedores at work, may also take a Cigar Rolling Lesson with our expert craftsmen.

Graycliff Cigars are available in seven award winning blends: Original, Professionale, Crystal, Emerald, Chateau Grand Cru, Heritage Royale and Espresso; as well as the G2 line. They can be purchased worldwide from fine tobacconists. Graycliff Cigars come in two choices of packaging the Humidor-box of 24 and select blends come in smaller gift packs; G2 come only in boxes of 25.
Size: 5.2 x 50
Wrapper: Costa Rican
Binder: Ecuadorian
Filler: Nicaraguan, Honduran, and Costa Rican
Strength: Medium
Body: Full
Flavor: Full
Cigars Smoked For Review: 1
Construction and Appearance: The wrapper of the Graycliff Château Grand Cru PG is a medium brown in color with a slight reddish hue. It has some moderate veins, with some nice oil, and is topped off with a tight, neat, triple cap. The band is beautiful that features a large golden G on a purple background. There is plenty of gold foil laced in on the purple band and it looks quite regal. It's safe to say this one is an eye catcher. The second band also uses a purple and gold theme, and says Château Grand Cru.
Flavor and Notes: The wrapper of the Château Grand Cru PG has notes of wood, with hints of cocoa and leather. The foot has a blend of spices, leather, and cocoa as well. I go with a straight cut to prepare smoking the Château Grand Cru PG, the cold draw is a mix of cocoa, leather, spice, wood, and earth.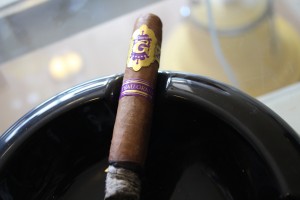 Smoking Characteristics:  The Château Grand Cru PG kicks off with a nice punch of spices, a mix of wood, pepper, and Asian spices. Right off the bat I can tell that the strength is in the medium range, even slightly higher. The draw is excellent easily producing a full body of rich, savory smoke which warms the palate slightly. Once I let the Château Grand Cru PG cool a bit, the spices die down. Then some new wonderful flavors join the blend, including a bit of almonds and a hint of cherry.
Into the second third there is a bit of a burn issue, I have a canoe running down one side which is not too significant, but starting to bother me a bit. Aside from the burn issue, the stick is really wowing me. The flavors are now woody, earthy, and savory with a nice almost salty mineral note to it. There is also a nice blend of almonds and nuts to it which linger on the palate. The draw is excellent, easily providing a full body of the rich savory smoke.
Into the final third a burn correction was needed to even the stick out. It was not too major of a correction, but it did bother me a bit to need to do it. The flavor is still rich, nutty, woody, earthy, savory, with a bit of dark cherry and almonds. The smoke finishes very clean on the palate and is amazingly rich. It smokes delicious down to the nub.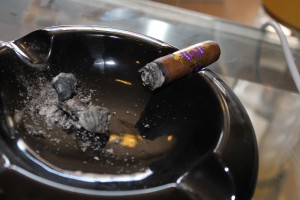 Conclusion: The Château Grand Cru PG is an excellent stick, with wonderful savory and complex flavors. If not for the the burn issue, which of course could be a singularity, it would have provided one of the better smoking experiences I've ever had. It is hard to understand just how rich, savory, and delicious it smokes. Yet, it does come at a price, which is somewhat hefty. In my opinion, this stick is worth a try.
Rating: 92
MSRP: $19.00