Rodrigo La Fortaleza Cinco 5 Review & Cigar Coop Meet up
Last week I posted about my meet up with Cigar Craig, a blogger who we've become quite friendly with at A Cigar Smoker's Journal. This past Monday, we were thrilled to meet up with Will Cooper of Cigar Coop, a man we had spoken with so much on twitter and elsewhere. In the spirit of true BOTL camaraderie, we arranged a little joint review at a restaurant and bar in downtown Danbury, CT with a great outdoor patio.
We meet up on a cool night, relaxing outside with a few drinks, some nice cigars, and great conversation. We selected the Rodrigo La Fortaleza Cinco 5 for review, and were able to Skype with George Rodriguez while we smoked it to pick his brain. We had plenty of questions for him. We will be posting a series of videos of him answering them.
Size: 6 x 56 (It doesn't feel like 56, more like a 55)
Wrapper: Dominican (Habano Oscuro)
Binder: Dominican Republic
Filler: Dominican Republic
Strength: Full
Body:Full
Flavor: Full
Factory: Tabacalera Ventura, Dom. Rep.
Vitolas: Corona, Robusto, Churchill, Cinco 5
Cigars Smoked For Review: 1
Construction and Appearance: The Cinco 5 has a nice medium colored wrapper with a slight reddish hue. It has moderate veins, a bit of oil, and ends in a small pigtail. What is interesting is the amount of variation in color on the wrappers on the La Fortaleza. The smaller ring gauge sizes seemed to be a bit darker but even this box of Cinco 5 had a fair amount of variation in color. When we spoke to George, he said it was typical to have variations in wrapper color. Rodrigo cigars is a boutique company and does not have bales and bales of a particular tobacco to be able to have long runs of consistent color. Rodrigo instead, concentrates on a consistent blend and quality. Color does not equal flavor in a particular blend.
I was also curious about the Rodrigo cigars logo, which is the only thing on the Cinco 5 band. The rest of the La Fortaleza line has the name as well, but the newer Cinco 5 only has the logo which is two griffins with tobacco tail leafs with a shield and a star which has three more tobacco leaves on it. George told us the leaves represented their 5 children and the two griffins represent him and his wife.
Flavor and Notes: The wrapper of the La Fortaleza Cinco 5 has notes of wood, leather, and a bit of espresso-like sweetness. The foot has notes of wood and a light spice which tingles the nostrils slightly. I go with a straight cut, which Coop went with as well, however Kevin only ripped off the pig tail to smoke it. On the cold draw there was a bit of wood, some leather, and spice.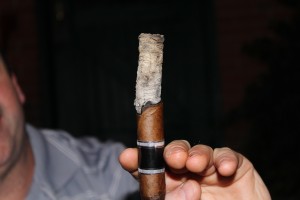 Smoking Characteristics: The Rodrigo starts out with a nice draw and a medium amount of smoke. The flavors are woody, with a bit of leather, and a light spice that plays softly on the palate. There is also a nice sweetness that doesn't have much of a flavor to it. The draw is perfect and the smoke has a very savory feel to it. My burn is a bit off at this point, but Kevin and Coop's are both doing well.
Into the second third you can start to feel the strength which creeps up on you a bit. The flavors continue to evolve with a sweet balsa wood tone mixed with a savory sweetness. The retrohale has really only a slight burn with a bit of spice and a mix of sweetness. The draw is still great with a nice body of smoke. The burn for me has evened out and become razor sharp, Kevin's is a bit uneven but hasn't needed any correction, Coops is doing about the same as Kevin.
During the final third the flavor remains mostly consistent from the last, yet still evolving. The flavor is still made up of sweet wood, leather, and a bit of earth notes. The smoke is cool, rich, and very savory, the flavors lingering on the palate long between draws. The draw itself remains outstanding, providing an excellent body of smoke. The burn stays nearly razor sharp with an excellent tight ash holding, none of us have needed to touch up the Cinco 5 more than once. The strength really kicks up in the final third, and by the time were done smoking the La Fortaleza we were all ready to eat.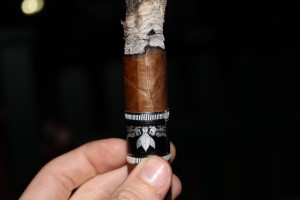 Conclusion: I am a strong supporter of boutique brands of handcrafted products including beer and cigars. Rodrigo is an excellent boutique brand, I enjoy the Boutique Blend, the Habano Clasico, and of course, the La Fortaleza. The strength was excellent, starting out slow, easing its way in, we all agreed this cigar was a real creeper. The flavor also was rich, savory, and delicious, allowing me to enjoy every moment of this smoke. Overall this is a box worthy stick and very affordable.
Rating: 92
MSRP: $7.25