I'm often asked what my favorite cigar is. The answer to that question is normally the one I've been smoking lately or right now. It changes so often that there is no point in giving it a strong endorsement. When I tell people what my go to cigar is, I mean that this is the cigar I will go to when I'm not sure of what I want to smoke.
A go to cigar should be fairly priced, relaxing, and just overall enjoyable. It just so happens that the Perdomo Champagne Noir is all of those things for me. Today I am reviewing my go to cigar, the Perdomo Champagne Noir Epicure. I am a fan of Perdomo cigars because I find them to be fairly priced, high quality, and rarely have construction issues. When I am not sure what I want to smoke, Perdomo has always been a safe bet for me.
Size: 6 x 54
Wrapper: Nicaraguan Cuban-Seed Maduro
Binder: Nicaraguan
Filler: Nicaraguan
Strength: Medium
Body: Full
Flavor: Full
Cigars Smoked For Review: 1 (And a few boxes smoked for pleasure)
Construction and Appearance: The Perdomo Champagne Noir Epicure is a beauty to look at, especially for those who are fans of maduros. The wrapper is dark chocolate in color with very little veins and a nice oil to it. The construction is solid and firm. The band is an impressive mix of black, gold, and orange, and says Perdomo Reserve Champagne with Noir written below it.
Flavor and Notes: The wrapper of the Champagne Noir Epicure has some very rich sweet chocolate notes, along with a bit of coffee. The foot has a mix of chocolate, coffee, and a mild spice. I go with a V-Cut to prepare to smoke the Champagne Noir, as it is my preferred method of smoking. The cold draw yields some flavors of sweet chocolate and coffee.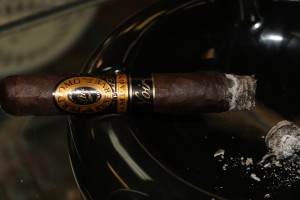 Smoking Characteristics: As always, the Perdomo Champagne Noir Epicure kicks off with an excellent draw of very full, rich, smooth, creamy, sweet smoke. The initial flavors are a blend of oak spice, rich chocolate, and coffee. The oak spice is fairly mild but adds a nice complexity to the start of the smoke. The burn line holds fairly even and the ash holds well throughout the duration of the cigar. There have been times where I've held the ash to three inches or more, but for reviews I like to ash around the inch point. It is holds to this point with ease.
Into the second third, the flavors become richer and more intense. The notes of chocolate, coffee, and just a hint of oak spice all remain, but now there is also a bit of cocoa in the blend. The smoke is still very full in body, rich, smooth, creamy, cool, and continues to billow from the stick between draws. On the retrohale there is a bit of spice, and I can gauge the strength solidly in the medium range.
The final third is always my favorite part of this stick, and I wish it would never end. The oak notes mostly fade out, and all that is left is a very sweet chocolate and a bit of coffee. I don't think it would be possible to understate just how sweet and savory this chocolate note is towards the end. Some infused cigars aren't quite as sweet. The construction holds up perfectly, the draw still easily providing a full body of the rich, cool, sweet, creamy, smooth smoke. The burn line stays fairly even, and the ash holds firm to the end.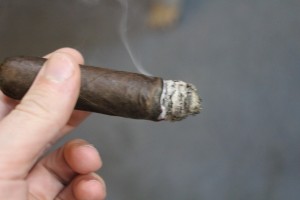 Conclusion: The Perdomo Champagne Noir Epicure is possibly the cigar that I've smoked the most of, so obviously I would recommend it for a box purchase. I think any fan of maduro smokes would be more than pleased with this cigar on all points. The flavor is simply wonderful and easily keeps my attention while I smoke it. The strength is strong enough to give you a bit of a buzz, but not enough to floor you in any way. The construction is simply amazing, the draw was perfect as always, the burn line held tight (yet not quite razor sharp), and the ash held firm. If you haven't tried a Perdomo cigar before, this is the stick to pick up and light up!
Rating: 90
MSRP: $6.29