Brick House Bash and JC Newman Connoisseur Club
Brick House Bash Events are happening at Brick & Mortar Cigar Shops nationwide to promote the J.C. Newman Brick House cigar. I've found the Brick House to be a pleasant, fairly priced Nicaraguan puro and it was reviewed here.
From the J.C. Newman website
Tampa, Florida's celebrated heritage as the Fine Cigar Capital of the World lives on at J.C. Newman Cigar Company. We are America's oldest family-owned premium cigar makers, and also the last operating cigar factory in Cigar City. With a portfolio of famous brands beloved by cigar lovers the world over, we offer cigars for every taste profile and every budget. From the ultra-premium Diamond Crown and Diamond Crown MAXIMUS to Cuesta-Rey, La Unica, Brick House, El Baton, to our value-priced Quorum and Factory 59's, these brands are instantly recognizable to cigar aficionados everywhere.

Brick House Bash Events are a great opportunity to try a Brick House Cigar. When you make a box purchase during one of these events, you also get a complimentary membership into the J.C. Newman Connoisuer's Club, an $18.00 value! (Not available in CA, MA, or NY) When I sent my form in, I received my package in about 10 days.
When my package arrived, it included (the selection varies):
1 Diamond Crown #4
1 Cuesta-Rey Centro Fino Captiva Tubo
1 El Baton Belicoso
1 Brick House Robusto
1 T Shirt
1 year subscription to the J.C. Newman Wrapper Newsletter.
All of this for free just by making a purchase at a Brick House Bash event! You can find the entire list of J.C. Newman events on their website here.
The J.C. Newman Wrapper is a monthly newsletter from J.C. Newman which features their cigars and highlights different pairings, stories, and products. It also has various stories and editorials including an Ask the Newman section, where you can send in questions for the Newmans to answer!
So drop by a Brick House Bash near you to sign up for a free membership! What? No Brick House event near you? You can sign up for the Connoiseur Club right on the J.C. Newman website here.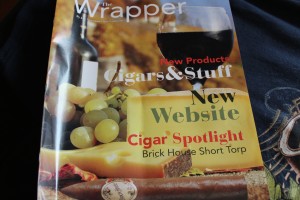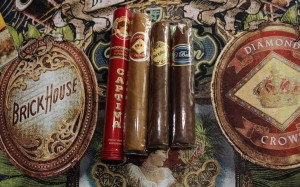 We will be reviewing the cigars we received in the coming days! Smoke on!