Rocky Patel HR 500 – Cigar Review
Rocky Patel had just a ton of new introductions this year in Orlando at the IPCPR 2012. Some of their new introductions include the Nording 50th Anniversary, Edge Habano, Rocky Patel Burn – Naples, Florida, Private Cellar, Freedom, and the Rocky Patel HR 500 by Gary Sheffield. Today I am reviewing the brand new Rocky Patel HR 500 by Gary Sheffield. It is a cigar that celebrates Sheffield's 500th home run. Currently, there is only one size of the HR 500, a 6 1/2 x 52 toro. Here are the details from the Rocky Patel price sheet:
HR 500 is a special celebratory cigar blended to commemorate baseball great Gary Sheffield's milestone 500th home run.  The special edition brand is limited, much like Sheffield's own exclusivity being one of 25 MLB players to hit 500 or more homeruns in his career.
At the Rocky Patel IPCPR booth, Sheffield was there, himself signing autographs and meeting people. He is a known cigar enthusiast and seemed excited to be there introducing his new brand. Check out the photos from the Rocky Patel booth: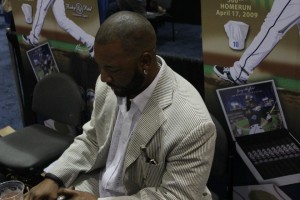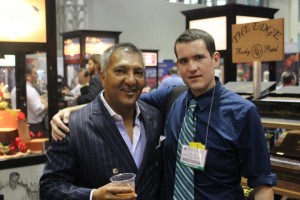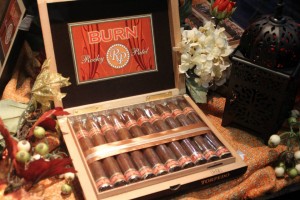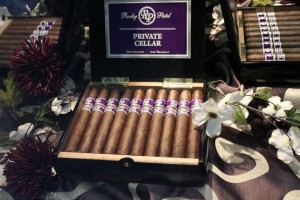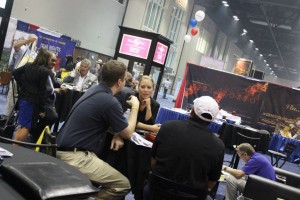 Size: 6 1/2 x 52
Wrapper: Ecuadorian Habano Seed
Binder: Honduras Jamastran
Filler: Honduras, Nicaraguan
Strength: Medium – Full
Body: Full
Flavor: Full
Cigars Smoked For Review: 1
Construction and Appearance: The Rocky Patel HR 500 by Gary Sheffield has an attractive medium brown wrapper with a slight reddish hues, fine veins, and a nice tight cap. The band on it depicts a mini baseball diamond with a silhouette of Sheffield, presumably hitting his 500th home run.
Flavor and Notes: The wrapper of the Rocky Patel HR 500 by Gary Sheffield has a scent of sweet rich mineral, hay, and a light cocoa. The foot has notes of hay, wood, and a light floral tone. I use a straight cut to prepare smoking the Rocky Patel HR 500 by Gary Sheffield and on the cold draw there are notes of wood, hay, and a bit of nuts.
Smoking Characteristics: The Rocky Patel HR 500 by Gary Sheffield kicks off with woody notes, mixing with cedar, wood, cocoa, and a rich floral tone. The draw is excellent, easily providing a full body of rich, cool, smooth, smoke with a creamy finish. There is also a light mineral tone which lingers on the palate between draws. The burn is almost razor sharp. The ash holds firm, easily past the inch point.
During the second third of the Rocky Patel HR 500 by Gary Sheffield, there are still plenty of rich flavors, mineral, wood, floral tones, and  a light cocoa. The smoke is still very cool, smooth, rich, creamy, and savory. The draw remains excellent, each puff providing a full body of thick smoke. The smoke production is absolutely fantastic, it continues to billow from the stick between draws. The strength at this point is just a hair above medium, with a nice slight burn on the retrohale. Did I mention there is a ton of smoke going on here?
Into the final third of the Rocky Patel HR 500 by Gary Sheffield the flavor hasn't shifted very much. There's still a nice cocoa, which has increased slightly, and a bit less mineral, there is almost no woody flavors at this point, just an undertone. The blend of flavors is delicious, and quite enjoyable, and very savory. The construction performs well, all the way down to the nub and the smoking time comes in just a bit over 2 hours.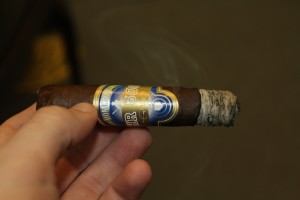 Conclusion: The Rocky Patel HR 500 by Gary Sheffield is an excellent stick, it has some great savory, rich flavors. The construction was excellent, the burn performed very well, ash held firm, and the draw was superb. I'd say this definitely a cigar to try, especially if you are a baseball fan. The strength is excellent, just a bit over medium, and should satisfy most smokers. Personally, I loved it and I could see picking up a few sticks once it hits shelves, but I think the price is just a bit high for me to be grabbing a box.
Rating: 90
MSRP: $12.20