The Toraño Family Cigar Company had two releases for the 2012 IPCPR, the Salutem, and the Master Maduro. I reviewed an early sample of the Master Maduro back in July (check it out here), and thought it was a great stick so I couldn't wait to try out the Toraño Salutem. The word Salutem is a latin term for a friendly greeting or a way to pay respect. The Toraño Salutem will come in 12 count boxes, and today I am sampling it in the Robusto size for this review.
Size: 5 x 52
Wrapper: Habano Ecuador
Binder: Jalapa
Filler: Dominican Republic, Nicaragua, and Cameroon
Strength: Medium
Body: Full
Flavor: Full
Cigars Smoked For Review: 1
Construction and Appearance: The Toraño Salutem has a medium brown, clay colored wrapper with moderate veins and a generous cap. The band of the Toraño Salutem has a Celtic sort of design to it, with the classic Torano crest and logo below it.
Flavor and Notes: The wrapper of the Toraño Salutem has notes of hay and spices. On the foot there is the scent of hay, wood, and spices. I use a straight cut to prepare smoking the Toraño Salutem and on the cold draw the flavor is a mix of very mild spice, sweet grass, wood, and a bit of cocoa.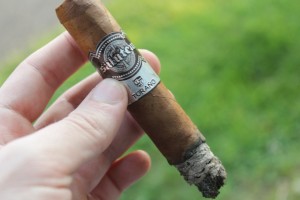 Smoking Characteristics: The Toraño Salutem opens up with some rich spices, sweet grassy flavors, a slight cocoa, and some cedar, and is unexpectedly mild. The draw starts out fantastic, easily providing a full body of rich, cool, smooth, sweet, creamy smoke. The salt and pepper colored ash holds very well with a sharp burn line.
Into the second third of the Toraño Salutem, a nice sweet salty savory feel starts to develop. It finishes long on the palate with a rich, slightly oily, savory consistancy. The spice becomes a bit more subdued during this third, and the cedar, cocoa, and grassy flavors build a bit more. The strength is around the medium range, with rich spices on the retrohale along with the wonderful savory note that is left on the palate.
During the final third of the Toraño Salutem, there is no further evolution to the flavor profile. The rich finish continues on the palate, and all the notes of cedar, cocoa, sweet grass, and mild spice remain. The draw remains excellent, easily providing a rich body of the thick, smooth, cool, rich, creamy smoke. The ash and burn both perform wonderfully, requiring no attention.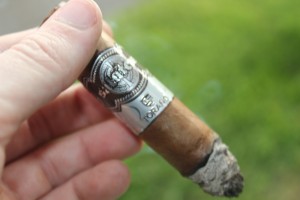 Conclusion: The Toraño Salutem is another great introduction from the Toraño Cigar Co. The flavors were excellent and it provided a very rich, appreciable finish. The construction was excellent, no issues whatsoever. Would I smoke it again? Certainly. Would I pick up a box? Well, with its great medium strength, amazing finish, and stand up construction, it is certainly possible I'll be grabbing one in the future.
Rating: 90
MSRP: $7.20