Joya de Nicaragua Cuenca y Blanco Toro Supremo – Cigar Review
One of the cigars I've been looking forward to for quite some time is the Cuenca Y Blanco from Joya de Nicaragua cigars. I had one of the pre-releases that was given to me by Jose himself back in June, but I was anxious to try the full production version. I got one in Orlando at the IPCPR last week and let it rest, but I couldn't wait any longer!
The Cuenca y Blanco is named after José Blanco (senior vice president of Joya de Nicaragua) and Joya de Nicaragua President, Dr. Alejandro Martínez Cuenca. When I spoke to José Blanco a few weeks ago, he seemed very proud to have this blend named after him. The Joya de Nicaragua Cuenca y Blanco comes in five different sizes including Corona Real (5 1/2 x 46), Robusto Deluxe (5 1/4 x 50), Lonsdale Club (6 1/2 x 44), Torpedo Especial (6 1/4 x 52), and the Toro Supremo (6 x 54), which I am reviewing today.
José Blanco has worked in the cigar industry for decades, he retired from La Aurora in 2011 after over twenty years of dedicated service. He is also well known for his cigar tasting seminars where he creates a single cigar using multiple wrappers to demonstrate the way wrappers effect flavor. He most recently put on one of these seminars at Butthead's Tobacco Emporium in Danbury, CT, and it was broadcast by live webstream so that viewers could participate around the globe.
Size: 6 x 54
Wrapper: Ecuadorian Habano
Binder: Piloto Cubanao (Dominican Republic – La Canela region)
Filler: Nicaraguan (Ometepe, Esteli); Peruvian
Strength: Medium to Full
Body: Full
Flavor: Full
Cigars Smoked For Review: 1
Construction and Appearance: The band on the Joya de Nicaragua Cuenca y Blanco Toro Supremo has this technicolor theme to it with a retro feel and says Cuenca Y Blanco in the middle. The wrapper on it is a medium brown with a bit of a golden color, it has some nice oil, minimal veins, and a generous cap. The cigar feels very solid, is heavy in hand and has no visible flaws.
Flavor and Notes: The wrapper of the Joya de Nicaragua Cuenca y Blanco Toro Supremo has notes of sweet molasses, wood, and leather. On the foot there is a scent made of spice, molasses, wood, and pepper. To prepare for smoking the Joya de Nicaragua Cuenca y Blanco Toro Supremo I use a straight cut and on the cold draw there are flavors of molasses, spices, oak, leather, and earth.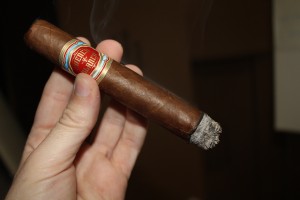 Smoking Characteristics: The Joya de Nicaragua Cuenca y Blanco Toro Supremo fires up with some very delicious and complex flavors. There are notes of wood, spice, coffee, earth, cocoa, and a slight amount of black pepper. The cocoa and spices linger on the palate between draws and are very rich. The draw starts out a bit loose, but tightens up about a quarter inch into the stick. Once the draw evens out it provides a full body of smoke without any effort. The smoke is not very thick or heavy, just very flavorful, cool, rich, and smooth. The strength by the end of the first third is a nice medium, yet it started out in the mild to medium range.
Into the second third of the Joya de Nicaragua Cuenca y Blanco Toro Supremo, the flavor really ramps up. There are notes of oak, earth, dark chocolate, leather, and spices. The pepper has mostly faded out of the flavor profile by this point. The strength continues to ramp up during this third moving into the medium to full range. The blend of flavors is very rich, balanced, complex, and nuanced. The construction is performing wonderfully. The burn, draw, and ash all have required no attention.
During the final third of the Joya de Nicaragua Cuenca y Blanco Toro Supremo, the strength finally levels off and remains in the medium to full range. The flavor profile has a pretty big shift during the final third. The dark chocolate notes level off, but there is still a bit of a molasses sweetness that lingers. During this third there are still the notes of oak, leather, earth, and a very rich blend of spices which intensify. The construction remains excellent in this third with a great burn, ash, and draw.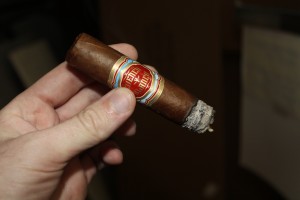 Conclusion: I could smoke the Joya de Nicaragua Cuenca y Blanco Toro Supremo all day long and be happy. In fact, I'm certain we have a contender for the top 10 of 2012, if not the top 5. When I attended a seminar hosted by Jose Blanco he said a great cigar requires 5 elements flavor, strength, aroma, complexity and balance. The Cuenca y Blanco excels in each aspect. There is no question that this cigar is box worthy. This is the type of stick you share with friends during good times, and cheers you up during the bad ones.
Rating: 94
MSRP: $10.45