Padilla Invictus Torpedo – Cigar Review
The Padilla Invictus, just like the Padilla Miami Maduro (Which I reviewed here recently), is made in the El Titan de Bronze factory in Miami, Florida and is being made in the same availability. It is only open to 100 accounts nationwide, and only 100 boxes will be rolled every two months of the three sizes, all in ten count boxes.
We spoke with Susana Aragon in the Miami office and she told us that these new lines were representative of a new philosophy at Padilla. Ernesto is reaching back to his roots of producing truly boutique cigars. The Miami and Invictus have only a handful of rollers trained on their production and availability will be increased only incrementally as new accounts are opened.
The three sizes of Padilla Invictus are a (5 x 54) Robusto, a (6 x 54) Toro, and a (6 1/2 x 54) Torpedo which I am reviewing today. This sample was given to me by the gracious folks at A Time For Wine II in Caesars AC. I visited there recently and you can see my trip review of the visit here.
Size: 6 1/2  x 54
Wrapper: Ecuadorian Habano
Binder: Nicaraguan
Filler: Nicaraguan
Strength: Medium
Body: Full
Flavor: Full
Cigars Smoked For Review: 1
Construction and Appearance: The Padilla Invictus Torpedo has a beautiful wrapper which is medium brown with a slight reddish hue. It has slight veins and a nice oil to it. Holding the cigar in hand, it is a real beauty. It features a nice torpedo tip and is just a very attractive cigar. The bands on it are similar to the Padilla Miami Maduro, the top band featuring a lion's head and the Padilla logo, the bottom band saying Invictus and MMXII which is 2012 in Roman numerals.
Flavor and Notes: The wrapper of the Padilla Invictus Torpedo has notes of wood, sweetness, and a nice mineral sharpness. The foot of the cigar has a scent of spice, earth, wood, and mineral sharpness. I use a straight cut and generously cut the torpedo tip to prepare smoking the Padilla Invictus Torpedo and there is a flavor made up of spice, wood, honey, and a very light earth from the pre-light draw.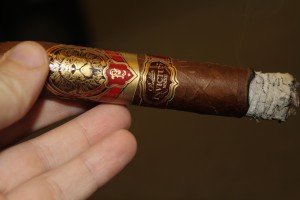 Smoking Characteristics: The Padilla Invictus Torpedo opens up with a nice mixture of sweetness, spice, and pepper. It has some woody flavors, a bit of mineral sharpness, a light earthy flavor, and a blend of spice and pepper which lingers on the palate between draws warming it slightly. The draw is very easy at first, almost a bit loose, but becomes more satisfying after the first inch or so. It produces some fantastic smoke, billowing between draws, but the smoke is not extremely thick. In this first third it seems predominately sweet rather than spicy, and the strength is just a hair over medium.
Into the second third of the Padilla Invictus Torpedo, the draw really hits its stride. It is a bit easy, but not loose, pretty much just they way I prefer a draw to be. In this third the spice has kicked up becoming more intense than the sweetness. There are still notes of spice, pepper, wood, light earth, and a mineral sharpness to the blend. The ash is holding fairly well, but will break off on its own when rested in an ash tray past the inch mark. The burn is fairly sharp, and does not require any touch ups.
Into the final third the profile returns to being predominately sweet than spicy, even more so than the first third. The notes of wood and mineral sharpness become much more pronounced in the smoking profile while the spice is more subdued and the pepper has faded out. The spice still tingles the palate lightly between draws, but now also a sweetness close to cocoa lingers on the palate. The draw remains fantastic and the ash now holds much more solidly. I had a bit of a burn issue in this third which required one minor touch up.
Conclusion: The Padilla Invictus Torpedo is an interesting blend, I loved the interplay between sweetness and spice that persisted during the entire smoke. The evolution in terms of flavor was a bit lacking, no new notes really joined the blend, but the intensity of notes shifted quite a bit. The construction was good, it could do with a slightly tighter draw near the start, and a firmer ash. but aside from that it was excellent. I would definitely pick up a few more of these smokes any time, and hopefully will find them in a B&M near me soon. Still not sure if I'd go for the box at $143.00 for a ten count box, it is a bit steep. This cigar is worth aging in your humidor and I think time will be very kind to this cigar.
Rating: 89
MSRP: $ 14.30