Perla del Mar By J.C. Newman – Cigar Review
Perla del Mar and Brick House Mighty Mighty Maduro were J.C. Newman's two releases for the 2012 IPCPR in Orlando, Florida. The Mighty Mighty Maduro (which kinda blew me away, read the review here) was a line extension and a foreshadowing of more maduro vitolas being added to the Brick House Family of cigars. Today, I am reviewing their other release Perla del Mar, or Pearl of the Sea. The Perla del Mar is made in the Fabrica de Tabacos San Rafael S.A. in Nicaragua, sharing the same factory with Brick House and El Baton. Eric Newman, President of J.C. Newman said "Flavorful Nicaraguan cigars like our Brick House brand have become very popular. However, the dark Havana Seed wrappers tend to produce a bolder smoke that is not for everyone. Our Perla del Mar cigars offer the best of both worlds. The smooth creamy flavor of a Connecticut wrapper with the interesting, complex flavors of Nicaraguan filler and binder. This is a cigar you could enjoy daily." The new Perla del Mar is available in 4 sizes, Perla P (3 3/4 x 56 ), Perla G (6 1/4 x 52), Perla TG (6 x 60), the Perla M (4 3/4 x 52) which I am reviewing today.
Size: 4 3/4 x 52
Wrapper: Ecuadorian Connecticut Shade
Binder: Nicaraguan
Filler: Nicaraguan
Strength: Mild
Body: Full
Flavor: Full
Cigars Smoked For Review: 1
Construction and Appearance: The Perla del Mar M has a golden brown wrapper with mild veins, some nice oil to it, and a tight cap. The band is a mix of blue, gold, and white and in the middle is a ship by a light house pulling into the dock. The band really fits the theme of Pearl of the Sea and has a nice old world feel to it.
Flavor and Notes: The wrapper of the Perla del Mar M has notes of sweet nuts and hay. The foot has a scent which is a mix of hay, nuts, and a bit of earth. I use a very slight straight cut to prepare smoking the Perla del Mar M and on the cold draw there is a mix of sweet grass, nuts, and very slight earth.
Smoking Characteristics: The Perla del Mar M starts out with an excellent draw, very easy but not loose. It provides a full volume of smoke which is rich, cool, sweet, creamy, and smooth. There are flavors of nuts, sweet grass, and a mild earth which is only present on the exhale and on the palate in-between draws. The strength is mild, typical of a Connecticut shade wrapped cigar, and marked with a creamy finish. The construction holds up great in this third, the burn line is razor sharp. The ash is a nice salt and pepper color and holds firmly, easily to the inch mark.
Into the second third of the Perla del Mar M, the flavor shifts just ever so slightly. The notes of nuts, sweet grass, and mild earth on the exhale and palate all remain, but now a note of nutmeg joins the blend. The draw remains excellent, easy enough that you won't get light headed taking a puff, but not loose enough to feel like you are smoking air. The burn and ash both continue to perform amply as well.
During the final third of the Perla del Mar M, a nice sweet vanilla flavor joins the blend, but is is mostly only on the palate between draws. All the notes of nuts, sweet grass, and mild earth remain. The strength still remains mild, which is expected. The burn line wavers a bit, but not enough that I needed to correct it. It smokes cool to the nub with the same great flavors.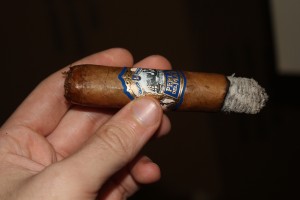 Conclusion: Dollar for dollar this cigar stands out as one of the better Connecticut shade cigars I've ever smoked. With an MSRP of only $4.85 it is certainly a great value and has a flavor profile that should win most mild smokers over with ease. It has some great flavors, good construction, and the sort of mild strength that many smokers desire. If you are a mild smoker, check this one out and see what you think for yourself.
Rating: 89
MSRP: $4.85