Nat Sherman Metropolitan University – Cigar Review
Nat Sherman is an iconic brand and really a piece of New York history, if not US history. Every time I go down to the city I make sure to drop by the flagship store on West 42nd Street, a stone's throw from Grand Central Terminal, just to see the big clock outside and check out the displays they have set up in the windows. While Nat Sherman has been releasing some new lines like Timeless and the Nicaraguan Timeless, they are best known for their mild selections. In fact, when I think of a typical Connecticut shade cigar, one of the first to come to mind is the Nat Sherman Metropolitan.
Recently Nat Sherman has been taking steps to improve the distribution of their cigars and has recently taken control of the distribution themselves after using Lew Rothman's Santa Clara for the past few years. They brought Michael Herklots (@MichaelHerklots) on board to manage the brand and increase the visibility of the brand from the NYC Sherman Townhouse to store shelves near you. Most recently, Ike Karipides, formerly of Miami Cigar & Company, has joined the Sherman organization and begun the process of forming a national sales team to strengthen the relationships with B&M retailers. Your cigar shop might not even know these changes have taken place yet, so make sure to tell them that the Sherman family's cigars are available directly from Nat Sherman and at great price points. Today I am reviewing the Nat Sherman Metropolitan in the University (toro) size, one of their older and best selling lines.
Size: 6 x 50
Wrapper: Connecticut shade
Binder: Dominican
Filler: Dominican
Strength: Mild
Body: Medium to Full
Flavor: Medium
Cigars Smoked For Review: 1
Construction and Appearance: The Nat Sherman Metropolitan University has the original Sherman band, a very simplistic and classic band. It features the iconic Nat Sherman clock with two Indians, one on each side, and Nat Sherman written above. The background on the Metropolitan natural is a dark blue, whereas the metropolitan maduro is a red-orange and the host is a soft turquoise. The wrapper of the Nat Sherman Metropolitan University is a light golden brown, featuring moderate veins, and a nice oil to it. This look, to me, defines the classic Connecticut Shade Cigar.
Flavor and Notes: The wrapper of the Nat Sherman Metropolitan University has a sweet grassy scent. The foot of the Nat Sherman Metropolitan University has notes of hay, nutmeg, and a tiny bit of earth. I use a straight cut to prepare smoking the Nat Sherman Metropolitan University and on the cold draw there is a flavor which is a blend of nutmeg, grass, and earth with a nice sweetness to it.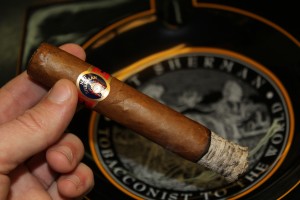 Smoking Characteristics: The Nat Sherman Metropolitan University opens up with an amazing draw that is just perfect right off the bat with no issues. The body of smoke is medium, close to full, with a nice sweet, smooth, creaminess to it. There are notes of sweet grass, a light coffee, and nuts. Each draw leaves a nice little sweet coffee and nutty flavor which has a pleasant finish on the palate. The strength is very mild, which is expected for a Connecticut. The construction is standing up very well with a nice solid ash holding past the inch point and a burn so sharp that it is almost astounding.
The Nat Sherman Metropolitan University  continues to smoke very consistently, without any issues. The smoke remains cool, smooth, sweet, and creamy, each puff easily providing a nice body of smoke. The notes of sweet grass, light coffee, and nuts all remain, creating a nice satisfying blend of flavors. The ash still holds very firm, well past the inch point, and the burn line is still well beyond sharp. The Nat Sherman Metropolitan University smokes consistently down to the nub without any issues making it a very nice mild, smooth, consistent stick.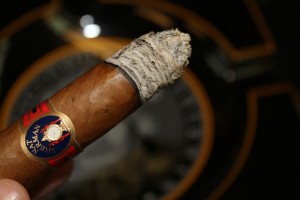 Conclusion: The Nat Sherman Metropolitan University is the definition of a classic Connecticut Shade wrapped cigar; very smooth, mild, sweet, creamy, and consistent. At its price point it is simply a steal, coming in at only $5.50. If you are a mild smoker, make sure to grab one of these and try it out, it won't let you down. This is a great smoke to keep on hand for any newbies you might want to bring in to the Brothers/Sisters Of The Leaf community of cigars.
Rating: 91
MSRP: $5.50