Punch Tailgating Contest – Win a free six pack of cigars or the ultimate tailgating package!
Going to the big game this weekend? Let Punch help you out with a free six pack, no not those bud lights, a six pack of punch! From now until December 28th Punch is giving away a Six pack of Punch cigars with a free cutter and bottle opener every day! You can enter every day for your chance to win the Six pack plus the cutter, plus you'll get into their grand prize drawing for the Ulitmate Tailgating Package.
The Ultimate Package includes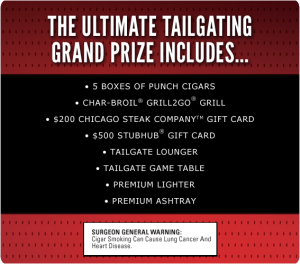 5 boxes of Punch cigars
A CharBroil Grill2Go Grill
$200 Chicago Stake Company Gift Card
$500 Dollar Stubhub gift card
A Tailgate lounger
A Tailgate Game Table
A Premium Lighter
A Premium Ashtray
So when you win the Ultimate Package you'll have the tickets to get to the game, and all of the stuff to enjoy it!
 Remember to Enter every day to win!