ACS NFL Sunday Challenge October 14th results!
For the October 14th ACS NFL Sunday Challenge we had a great prize, a Perdomo Travel Humidor and 5 Perdomo cigars! With the type of upsets we had this weekend it wasn't nearly as close as the past few weeks of the ACS NFL Sunday Challenge has been. In fact only 3 people managed to predict 7 out of the 12, and the winner was only able to predict 8 out of the 12 correctly. Yet winning is winning, so Thatrev will be taking home the prize pictured below!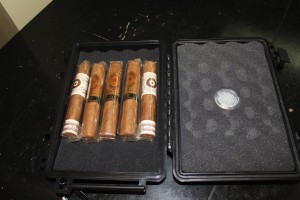 Thanks again to everyone who took part this week, and make sure to enter into next week's contest!
Thatrev's winning selections are posted below, with the correct predictions in bold:
Raiders at Falcons, 1:00 p.m. Falcons
Cowboys at Ravens, 1:00 p.m. Ravens
Bengals at Browns, 1:00 p.m. Browns
Rams at Dolphins, 1:00 p.m. Dolphins
Colts at Jets, 1:00 p.m. Jets
Lions at Eagles, 1:00 p.m. Lions
Chiefs at Buccaneers, 1:00 p.m. Buccaneers
Bills at Cardinals, 4:05 p.m. Bills
Patriots at Seahawks, 4:05 p.m. Patriots
Giants at 49ers, 4:15 p.m. 49ers
Vikings at Redskins, 4:15 p.m. Vikings
Packers at Texans, 8:20 p.m. Texans
Broncos at Chargers, 8:30 p.m. 48 points