Montecristo Cabinet Selección Robusto – Cigar Review
The name Montecristo is almost synonymous with cigars. In fact, normally when I mention cigars to my friends who do not smoke regularly they will bring up the name Montecristo. Recently I found the Cabinet style of Montecristo. Altadis produces a few of their brands in Cabinet Seleccións, including Romeo Y Julieta (which I reviewed here), Por Larrañaga, and H Upmann. The Montecristo Cabinet Selección is described as a "enticing invitation to savor a fuller-bodied smoke with a distinctively alluring aroma" according to Altadis' website. You can read the full description of the Montecristo Cabinet Selección from Altadis here.
Size: 5 x 52
Wrapper: Ecuadorian Sumatra
Binder: Broadleaf
Filler: Dominican, Nicaraguan, Peruvian
Strength: Medium to Full
Body: Full
Flavor: Full
Cigars Smoked For Review: 1
Construction and Appearance: The Montecristo Cabinet Selección has a band with the same style of the Montecristo white, except under the band it says Cabinet Selección. The wrapper is a very dark brown, a little darker than many Sumatra wrappers, with mild veins and a beautiful oil to it. It features a tight cap and feels very firm and heavy in hand.
Flavor and Notes: The wrapper of the Montecristo Cabinet Selección has notes of subtle spice, grass, and some molasses. The foot has a scent which is a combination of earth, spice, grass, and a little wood. I use a straight cut to prepare smoking the Montecristo Cabinet Selección and there is a flavor which is a mix of grass, molasses, wood, nuts, and an earthiness close to mushrooms on the cold draw.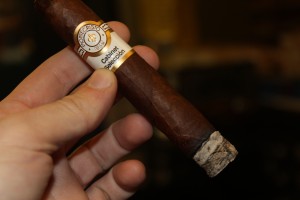 Smoking Characteristics: The Montecristo Cabinet Selección starts out with a deep sweet rich flavor with notes of grass, earth, and molasses with a nice meatiness to it, something I want to sink my teeth into. The smoke leaves a nice savory and sweet finish on the palate, and is very smooth, cool, and rich. About an inch in, there is also a little pepper which plays out on the palate, but is not present in the smoking profile. During the first third, the draw is a little tight but not unsatisfactory. The ash holds very firmly during the first third, easily to the inch mark.
Into the second third of the Montecristo Cabinet Selección, I experience a nice flavor evolution, one that is quite unique. There is a sweetness with a bit of an airiness which I will describe as marshmallow, and it is quite enjoyable. There are also some new notes of cocoa and a deep spice which join the blend as well, with the notes of earth, molasses, and nuts all remain as secondary notes. The draw opens up during this third and for the first time I can see why this is considered a "fuller bodied" Montecristo. Once the smoke production increases, I can start to feel the strength more keenly and it is easily in the medium to full range.
During the final third of the Montecristo Cabinet Selección, the marshmallow sweetness has faded, much to my disappointment. The notes of molasses, cocoa, spice, grass, nuts, and earth all remain along with the smokes savory and slightly meaty feel to it. The strength has remained in the medium to full range, providing a nice buzz while smoking. The ash remains very solid, not flaking at all, and easily holding over an inch. The draw is performing quite well, but in the final third the burn did require a few touch ups. However, the Montecristo Cabinet Selección smokes cool to the nub without pulling any heat.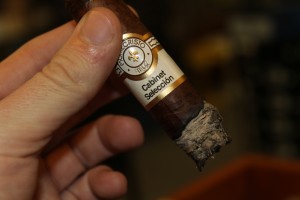 Conclusion: I have to say I am enjoying these Cabinet Selección cigars thus far. While they aren't quite typical of their brands, they are very delicious and unique. The Montecristo Cabinet Selección had some notes to it which I have yet to experience on any other cigar I've smoked, and that alone provides an excellent hook, and gives you a good reason to seek it out for yourself. On top of that the construction was quite good, no issues aside from some burn corrections in the final third. In my opinion if you see the Montecristo Cabinet Selección in your local B&Ms humidor, try one out, I don't think it will disappoint.
Rating: 89
MSRP: $9.00