ACS NFL Sunday Challenge November 4th!
Welcome back for another week of ACS NFL Sunday Football Challenge. Last week we had our biggest and best ACS NFL Sunday Challenge yet with over a hundred people taking part! Even with all the entries, a single person managed to snag the prize, predicting 100% of the games correctly, winning himself a box of Tatuaje Little Monsters. This week we are at it again with more great prizes.
Up for grabs this week is a CAO La Traviata cigar jar, which comes with 7 CAO La Traviata cigars. Just check this thing out, not only are the La Traviatas great smokes, this jar is quite ornate and will make a fine decoration.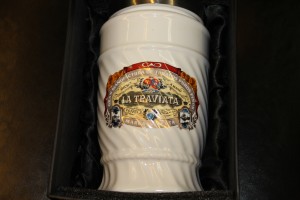 So how do you enter? Simply copy and paste the Sunday games below as a comment and write in your pick at the end of each line who you think will win the game. The person with the most correct picks takes home the prize!
In the case of a tie, we will default to the combined score of the Monday night game. The person who guesses the closest without going over will be selected as the winner. Good luck! Make sure to fill in the combined score of the Monday game in your post!
While you are here, look at some of our reviews! Thanks!
Broncos at Bengals, 1:00 p.m.
Ravens at Browns, 1:00 p.m.
Cardinals at Packers, 1:00 p.m.
Bills at Texans, 1:00 p.m.
Dolphins at Colts, 1:00 p.m.
Lions at Jaguars, 1:00 p.m.
Bears at Titans, 1:00 p.m.
Panthers at Redskins, 1:00 p.m.
Buccaneers at Raiders, 4:05 p.m.
Vikings at Seahawks, 4:05 p.m.
Steelers at Giants, 4:15 p.m.
Cowboys at Falcons, 8:20 p.m.
And the Monday Game which you will guess the score of to be the tie breaker
Eagles at Saints, 8:30 p.m.
My Predictions for the week are as follows:
Broncos at Bengals, 1:00 p.m. Broncos
Ravens at Browns, 1:00 p.m. Browns
Cardinals at Packers, 1:00 p.m. Packers
Bills at Texans, 1:00 p.m. Texans
Dolphins at Colts, 1:00 p.m. Colts
Lions at Jaguars, 1:00 p.m. Lions
Bears at Titans, 1:00 p.m. Bears
Panthers at Redskins, 1:00 p.m. Redskins
Buccaneers at Raiders, 4:05 p.m. Raiders
Vikings at Seahawks, 4:05 p.m. Seahawks
Steelers at Giants, 4:15 p.m. Giants
Cowboys at Falcons, 8:20 p.m. Falcons
And the Monday Game which you will guess the score of to be the tie breaker
Eagles at Saints, 8:30 p.m. 20