ACS NFL Sunday Challenge November 18th!
Welcome back for another week of our Sunday Football Challenge! Last week we had a 5 pack of the My Uzi Weighs a Ton Bait Fish up for grab, and James Stine snagged it by predicting 9 of the games correctly. Now it is time for another round of Football and cigars!
This week we have a great Football themed prize, a 4 pack of Punch which comes in a smoker box! The pack includes one Punch Rare Corojo, one Punch Magnum, one Punch Gran Puro, and one Punch Upper cut. Now you might be asking what a Smoker Box is, I know I did. A smoker box is used to give your food a nice woody flavor, all you do is soak wood chips for about a half hour. After that you throw the box on the grill, once it starts to smoke you grill as normal. Check this baby out!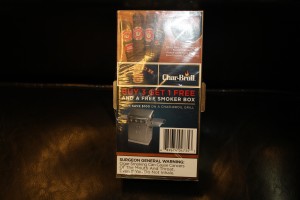 So how do you enter? Simply copy and paste the Sunday games below as a comment and write in your pick at the end of each line who you think will win the game. The person with the most correct picks takes home the prize!
In the case of a tie, we will default to the combined score of the Monday night game. The person who guesses the closest without going over will be selected as the winner. Good luck! Make sure to fill in the combined score of the Monday game in your post!
While you are here, look at some of our reviews! Thanks!
Cardinals at Falcons, 1:00 p.m.
Buccaneers at Panthers, 1:00 p.m.
Browns at Cowboys, 1:00 p.m.
Packers at Lions, 1:00 p.m.
Jaguars at Texans, 1:00 p.m.
Bengals at Chiefs, 1:00 p.m.
Colts at Patriots, 1:00 p.m.
Jets at Rams, 1:00 p.m.
Eagles at Redskins, 1:00 p.m.
Saints at Raiders, 4:05 p.m.
Chargers at Broncos, 4:15 p.m.
Ravens at Steelers, 8:20 p.m.
And the Monday Game which you will guess the score of to be the tie breaker
Bears at 49ers, 8:30 p.m.
My Predictions for the week are as follows:
Cardinals at Falcons, 1:00 p.m. Falcons
Buccaneers at Panthers, 1:00 p.m. Buccaneers
Browns at Cowboys, 1:00 p.m. Cowboys
Packers at Lions, 1:00 p.m. Packers
Jaguars at Texans, 1:00 p.m. Texans
Bengals at Chiefs, 1:00 p.m. Bengals
Colts at Patriots, 1:00 p.m. Patriots
Jets at Rams, 1:00 p.m. Jets
Eagles at Redskins, 1:00 p.m. Eagles
Saints at Raiders, 4:05 p.m. Raiders
Chargers at Broncos, 4:15 p.m. Broncos
Ravens at Steelers, 8:20 p.m. Steelers
And the Monday Game which you will guess the score of to be the tie breaker
Bears at 49ers, 8:30 p.m. 42