ACS NFL Thanksgiving Day Challenge
This week in addition to our regular Sunday Challenge (which I will be posting with the results of our last one later today) we have a special Thanksgiving Day Challenge!
Since we here at A Cigar Smoker have a lot to be thankful about we decided to give back to you in a big way. For our Thanksgiving day NFL Challenge we are putting up a 3 pack of Opus X Reserva d'chateau, a prize which any smoker would be thankful for. I mean check this baby out.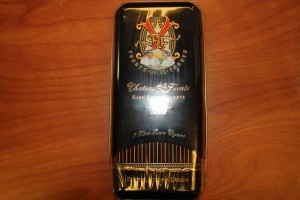 So how do you enter? Simply copy and paste the Thanksgiving day games below as a comment and write in your pick at the end of each line who you think will win the game. The person with the most correct picks takes home the prize!
In the case of a tie, we will default to the combined score of all the Thanksgiving Day games. So you must guess what the total score of all 3 games will be correctly. The person who guesses the closest without going over will be selected as the winner. Good luck! 
Texans at Lions, 12:30 p.m.
Redskins at Cowboys, 4:15 p.m.
Patriots at Jets, 8:20 p.m.
And the total score of all 3 games will be:
My predictions are as follows:
Texans at Lions, 12:30 p.m. Texans
Redskins at Cowboys, 4:15 p.m. Cowboys
Patriots at Jets, 8:20 p.m. Jets
And the total score of all 3 games will be: 73