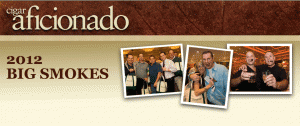 Thursday November 30, 2012 was the 2012 Cigar Aficionado Magazine's New York City Big Smoke. This was my first Big Smoke, but one of many for Kevin. I have to say I enjoyed it quite a bit. The experience is one that every brother of the leaf would enjoy. It was basically 3½ hours of smoking, drinking, and meeting some of the notable leaders of the cigar industry.
This year's Big Smoke NYC took place at Pier 94, a large venue located on the West Side highway in Manhattan. Doors opened at 6 PM, and when we arrived just before 6pm the line was already hundreds long and the place was abuzz with life.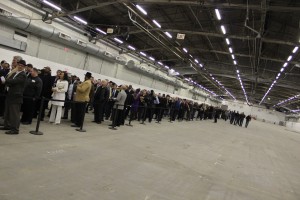 Finally the clock struck six and we were allowed into the vendor area to meet, mingle with, and sample the wares from several greats in the cigar industry. There were booths from Rocky Patel, Fuente, JC Newman, La Flor Dominicana, Oliva, Padilla, Dona Flor, Altadis, General Cigar Co, Alec Bradley, Boutique Blends, AJ Fernandez and many more. With so much going on it would simply be too difficult to talk about everything that happened, so I'm going to highlight some of my favorite moments at the Big Smoke NYC. I'll also be reviewing and recapping the different samples I was given over the next few weeks.
At the JC Newman booth Kevin, and I had a chance to catch up with the Newmans and got given a sample of the Diamond Crown Natural, and Diamond Crown Maximus, two excellent cigars.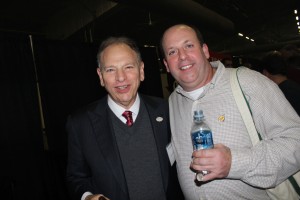 Over at the La Flor Dominicana booth I got a chance to meet up with Litto Gomez himself and my favorite La Flor Dominicana rep, Jonathan "The Chisel" Carney. They were giving out samples of their Double Ligero natural, which I gladly accepted.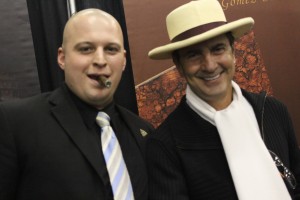 We then made our way to the Rocky Patel booth to say hi to Rocky, Nish, and Nimish. Over there we were greeted by the girls of the Hustler club who made sure to invite us to the after party across the street after the event. At the booth itself, Rocky was giving out some of the brand new Freedoms, then at the Hustler Club after party each attendee received a Rocky Patel 50th, a very rare treat!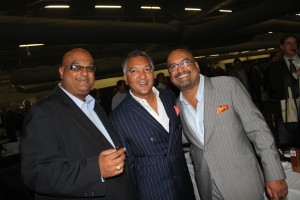 We then stopped by the Fuente booth to meet up with Carlito Fuente Jr, so Kevin could make a donation to the Cigar Family Charity.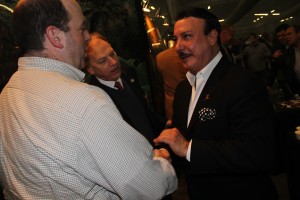 Finally, we made out way over to the Alec Bradley booth where we had a chance to meet up with Alan Rubin, where we received a Alec Bradley New York, a cigar that I have not had the pleasure of yet sampling.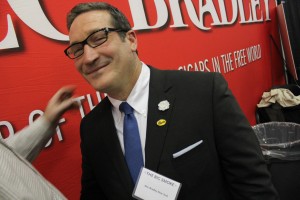 The Big Smoke turned out to be a real blast, three and a half hours of smoking, drinking, relaxing, and catching up with all the great cigar people I've gotten to know so well over the last year. In the end I wound up with quite the haul as well, check it out!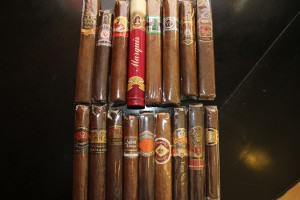 Here are a couple of my other favorite moments from the Big Smoke