ACS NFL Sunday Challenge December 16th Update
Last week we posted another NFL Sunday Challenge for the December 16th NFL Games. Up for grabs was a 6 pack of Ashton Cigars which included a Ashton Classic, an Ashton Heritage, an Ashton Cabinet, along with a La Aroma De Cuba EE, a La Aroma De Cuba red band, and a San Cristobal.
Both Trever Scotti and Michael were able to predict 12 games correctly so according to the rules the winner of the contest will be decided by who can guess the total score of the Monday night game the closest without going over. Trevor guessed the total score would be 27 and Michael guessed it would be 39. Everything comes down to tonights Jets vs Titans game, and check out this prize up for grabs!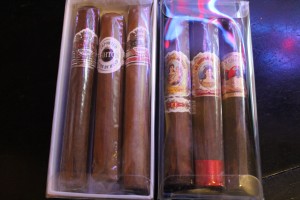 Make sure to check back tomorrow to see who wins, and get in on next weeks Sunday Challenge!