El Primer Mundo Liga Miami Toro – Cigar Review
Recently I had a chance to hang out with Sean Williams from Primer Mundo and talk with him about some of his upcoming projects and a few of his past ones. While Kevin and I were hanging out with him, we had the pleasure of smoking a few Primer Mundo Liga Miamis, and we enjoyed them so much I decided to do a review on this first.
The Liga Miami is rolled in Calle Ocho, in the heart of Little Havana in Miami. They are rolled using the Cuban entubado technique and produced in small batches to maintain the utmost quality.
Make sure to follow Primer Mundo on twitter (@primermundo), like their Facebook page, and check out their website.
Size: 6 x 52
Wrapper: Ecuadorian Sun Grown
Binder: Nicaraguan dual binder
Filler: Nicaraguan & Dominican Republic
Strength: Medium to Full
Body: Full
Flavor: Full
Cigars Smoked For Review: 1
Construction and Appearance: The El Primer Mundo Liga Miami features two bands. The top one has a brown background with a picture of a beautiful black and white map in the middle and silver coins on the sides. The map is drawn in a style that has a nice old world feel to it, and lacks any geo political markings. In ribbons that frame the map, above and below it, is written El Primer and Mundo. The second band is a simple brown with silver tracing and writing which says Liga Miami. The wrapper itself is a medium brown with a nice reddish hue, it has moderate veins and a nice oil to it. In hand it is quite solid, and it is topped off with a nice generous triple cap.
Flavor and Notes: The wrapper of the El Primer Mundo Liga Miami has notes of sweet nuts, grass, and a little earth. The foot has a scent which is also rich with nuts, grass, and earth, but also a little wood and cedar. To prepare smoking the El Primer Mundo Liga Miami I choose a nice slight straight cut, and on the cold draw there are flavors of spice, cedar, leather, nuts, and a little earth.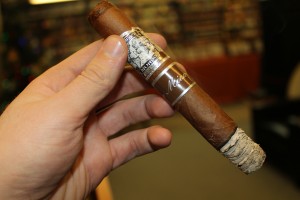 Smoking Characteristics: The El Primer Mundo Liga Miami kicks off with a very smooth, creamy, sweet delicious smoke. In the first third there are notes of caramel, nuts, grass, cream, cedar, and a nice little underlying spice. Each draw leaves a nice sweet woody finish on the palate with a little cedar. The draw itself is excellent, easily producing a full body of rich smoke with each puff. The strength is coming in around the medium to full range, with a nice buzz starting to set in during the first third. 
Into the second third of the El Primer Mundo Liga Miami, nutty flavors takes on a much more roasted tone and the creamy cedar moves more into the foreground. The notes of caramel and grass remain along with the underlying spice. Now between draws, the finish is a very sweet cedar along with a light pepper that teases the soft palate ever so slightly. The draw has remained excellent, still easily providing a full body of rich, cool, sweet, smooth, creamy smoke. The ash holds firm, well past the inch point, without flaking in any way and the burn remains very sharp without any corrections.
During the final third of the El Primer Mundo Liga Miami Toro, the creamy cedar, caramel, and roasted nuts become much stronger and richer. Also in this third a little chocolate joins the blend as well and works as an undertone with the grass and spice. The flavors are quite intense, well blended, and offer a nice complexity that is very relaxing and soothing. The construction still stands up very well, the ash holding firmly well past the inch point, and the burn requiring no corrections whatsoever. The El Primer Mundo Liga Miami Toro smokes cool to the nub without warming in any way or the flavor becoming bitter.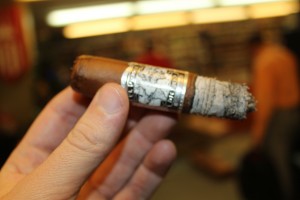 Conclusion: The El Primer Mundo Liga Miami Toro really surprised me, I hadn't ever smoked any Primer Mundo cigars in the past so this was a wonderful introduction to the brand for me. The Liga Miami displays excellent construction, bold flavor, and a fair amount of complexity that are very enjoyable. While the Liga Miami is priced slightly higher than my daily smoke (which is usually between $6.50 and $8), I could see this becoming a regular mid range smoke in my rotation.
Rating: 91
MSRP: $9.50