Contest Results: Celebration of a Year in Smoke
Last week I posted up a contest sponsored by Miami Cigar and Company which celebrates my first year here at A Cigar Smoker's Journal. To enter the contest you had to  post a link to two of the reviews from this site as a comment. One of the reviews has to be written by Barry (pre 2012), the other in 2012.
As promised I used a random number generator to select who would win. The number generated was 13, and counting down for the most recent post, the 13th post was by Paul Tyler.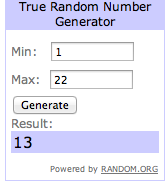 Check out Paul's winning post:
Although not really a review, I enjoyed reading about Barry's evening with Guillermo Leon…he did a follow up review of his signature series cigar. It was interesting to learn a bit about the man behind the cigar before I had the pleasure of smoking one.

http://www.acigarsmoker.com/20…

I also was looking forward to Peter's review of the Quesada Oktoberfest line for 2012 since the 2011 version was probably my favourite cigar from that year. Was lucky to get my hands on some when I was at Fame CIgar and Wine Lounge in Palm Springs.
Congratulations to Paul and thanks to everyone who took part in the contest, and for a great first year here at A Cigar Smoker's Journal. Paul is taking home a 20 count box of the new Añoranza from Miami Cigar and Company.