ACS NFL Playoff Challenge Part 2!
Last week we ran the first round of the ACS NFL Playoff challenge, up for grabs was a box of Vega Fina Sumum 2010. Michela Blanchette won by guessing the closest score as a tie breaker. This week we have a very special prize as well, a rare La Flor Dominicana Meaner Digger. Check out my review I did of this cigar. Only 2012 of them were made, this is a must try! I loved this stick, its the type of cigar you really need a while to enjoy since it is a 10 x 60.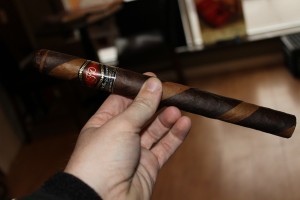 In the case of a tie, we will default to the total combined score of all 4 games! The person who guesses the closest without going over will be selected as the winner. Good luck! So how do you enter? Simply copy and paste the games below as a comment and write in your pick at the end of each line who you think will win the game. The person with the most correct picks takes home the prize!
While you are here, look at some of our reviews! Thanks!
Packers vs 49ers Winner:
Seahawks vs Falcons Winner:
Broncos vs Ravens Winner:
Texans vs Patriots Winner:
And the total combined score for all 4 games will be:
My predictions for this week are as follows:
Packers vs 49ers Winner: Packers
Seahawks vs Falcons Winner: Seahawks
Broncos vs Ravens Winner: Broncos
Texans vs Patriots Winner: Patriots
And the total combined score for all 4 games will be: