The Crowned Heads Cigar Company moves to new location, familiar digs
The Crowned Heads Cigar Company website, which just celebrated it's 2nd birthday on February 22, 2013, will be moving to new offices effective on Thursday, February 28, 2013. In a letter to the 329 stores that now carry the Crowned head's brands, Four Kicks and Headley Grange, partners Jon Huber @3barhuber and Mike Conder @mikeconder share that they will be moving to 6172 Cockrill Bend Circle in Nashville. For those of you who take copious notes and are up on cigar company trivia, you might recognize this address as that of the former CAO International Headquarters before the company was sold to Scandinavian Tobacco Group's General Cigar Company.
It was only three years ago that Jon Huber got the news that CAO International, now part of the gargantuan Scandinavian Tobacco Group, would be moving to Richmond, Virginia. What was a Nashville boy who did not want to part from his comfortable life in the Country Music Capital to do? QUIT! That's right, Jon Huber decided that he would find a different road to travel. That road has become The Crowned Heads Cigar Company.
Of course, this is an over simplification, but after years of parties, swag, flamboyant events, and shipping millions of cigars a year at CAO, Jon literally hated his last year at CAO International. Stories of how he and Mike Conder (CAO's marketing man and former VP of Sales at General Cigar) got together only days after their separation from CAO on December 17, 2010 and hatched the Crowned Heads concept are an inspiration to anyone who has become disillusioned and disheartened in their daily work. Jon and Mike decided to do a 180 and go back to the passion of making cigars that people would search out and enjoy. No face of the company, no extravagant events. Just good cigars.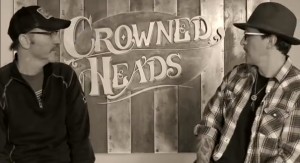 Now let's get back to what one would see to be irony about moving their offices back to the former address of CAO International. The path back to the same address of a career in the past is an eyebrow raiser, but Jon sat down with us and gave us some solid facts behind this move. The story centers around Jon and Mike's core belief that things always happen for a reason.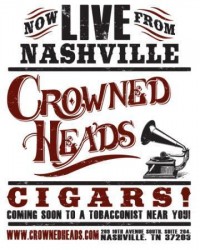 Major Expansion
Crowned Heads has been, up until now, a company with only six facings of cigars. In 2013 they expect to ship upwards of over 600,000 cigars and will have fifteen facings available after the Headley Grange line expands to five facings in March 2013 and the highly anticipated J.D. Howard Reserve line launches at IPCPR 2013 in Las Vegas. They have also added Adam Shepard to oversee day-to-day invoicing, accounting, inventory control, and customer relations. Additionally, Wes Thornton, formerly of Burns Tobacconist in Chatanooga, TN, takes the lead as the liaison (between the office and retail partners) and a brand ambassador at the end of February 2013, poising Crowned Heads for a large growth spurt this year.
So the move to another location is both that of the need to accommodate the projected three-fold growth in products this year and a situation where the space they signed to two years ago has become in demand after the construction of a new convention center literally next door to their offices. Two years ago, the current location was the last space they were shown by a local real estate agent. The agent even told them that no one wanted it. It was a failed bar location that was in disrepair and had been abandoned. The space was organic, a large loft area that was the farthest thing from the corporate feel they had been used to. It had the perfect vibe. However, it was a no smoking building and an outdoor patio has not been the best for blend evaluations (read 17 degrees on some winter days). However, as time has progressed and more blend evaluations are necessary, the outdoor patio has become less of an option. Fast forward to February 2013 and lease negotiations and the uncomfortable discussion of all the smoking going on. The issue has become a deal breaker to the landlord.
The New Location
Remember how Jon and Mike thinks things happen for a reason? Jon and Mike acknowledge the need for a smoke friendly building. Finding that in Nashville is as difficult as in many areas of the country. The Ozgener family, former owners of CAO International now have two businesses at the building which is still owned by founder, Cano Ozgener, OZ Art and OZ Events website and some extra space. Discussions for space that was cigar friendly naturally led them to OZ. After a few discussions, a decision was made to take some extra space at the OZ site. The most important part is that the building is cigar friendly. However, it also offers enough space to let the Crowned Heads brand grow.
We wish Jon and Mike the best at their new location and are honored that they shared a little of their success story with us.
-Kevin & Pete