Nat Sherman's Celebration of the Timeless
Recently I was invited to attend an event at the Nat Sherman Townhouse to celebrate the success of the Timeless line (Which was just named the number 10 cigar of the year by Cigar Aficionado in the January 2013 issue). Before the event, which was open to the public, media members with members of both old and new media were invited to join Michael Herklots, the Sherman family, and the Quesada Family in the Nat Sherman boardroom for a Q&A session.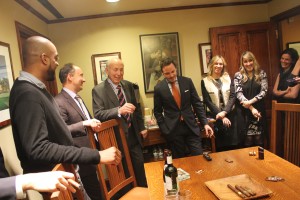 Michelle, Bill, and Joel Sherman (the CEO/Keeper of the Flame) were all present along with the Quesada sisters, Raquel and Patricia, and Terence Riley (Manuel Quesada's nephew). They spoke about how Nat Sherman has always created products with the consumer directly in mind, such as Cigarettellos which were made for someone who wanted to, but was unable to smoke Nat Sherman cigars on a transatlantic flight. The new Timeless was no exception to the rule, and was made with constant consumer and retailer feedback.
Nat Sherman has always been known for a more classic type of cigar, one that is a little more mild than many of the blends from newer manufacturers which have been produced in recent years. When they decided to move into a fuller blend they knew that they had to take the same care they put into making the original Nat Sherman lines. That is because before there was a company, there was a store, and before there was a store there was a person, and an idea.
Nat Sherman is steeped in tradition and history, it emanates a lifestyle of its own. It is easy to see this lifestyle when you walk into the Nat Sherman Townhouse on 42nd street in Manhattan. The main showfloor offers for sale not only pipe tobacco, cigarettes, cigars, and cigar accessories, but also a wide range of men's accessories. For sale are badger brushes and shaving kits, fine watches, and a wide range of other items that embrace the ideology of Nat Sherman. As Michael Herklots said, Nat Sherman makes products which embrace hobbies, not habits.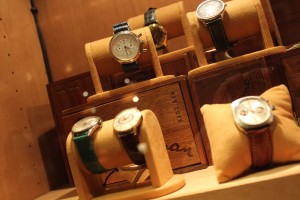 About Timeless
When the Timeless was being created they decided to partner with the Quesada Family to assist in the blending process and to produce the cigar. The Shermans have a long history with the Quesadas, who have produced the Metropolitan for many years now. During the process of creating the Timeless test blends were sent to literally hundreds of people, and every piece of feedback was taken into consideration.
In the end, two blends were considered worthy of wearing the new Nat Sherman band. The Dominican made Timeless, and the Nicaraguan made Timeless (which was just released at the 2012 IPCPR in Orlando). The new band, like the new blend, honors the old traditions of Nat Sherman, just as the new blend, is moving into the new age of cigars. This new band is designed to look much like the face of a watch, taking into account the old style of Nat Sherman bands which featured a clock and two Indians.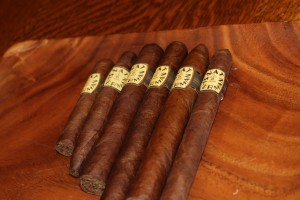 Also during the Q&A they discussed briefly about some new projects that Nat Sherman is working on, and while no specifics were mentioned, we were assured that the same sort of quality, history, and pride would be put into any new line that will be released by Nat Sherman.
After the Q&A we were invited to join the party which was already starting down stairs. This party was open to the general public for a $50 fee, which was nominal when you consider the spread that they put out. There were samples of bourbon you could try which was made in Brooklyn, wine, champagne, and various types of beer. They had a spread of hors d'oeuvres you could sample fromas well as a selection of Timeless for those in attendance to enjoy while celebrating the success of the cigar. While this was the first Nat Sherman event I have been able to attend, I have to say that I will be willing to attend more without question.
The Townhouse was packed with guests, including Rudy Giuliani! I was able to speak with Terence Riley, Patricia, and Raquel Quesada who were all very friendly. The Nat Sherman staff were very friendly, as always, providing for the guests' every need. Joel Sherman, CEO and Keeper of the Flame, gave a speech talking about the recent success of Nat Sherman, which was quite impassioned. After some drinks and conversation I made my way down to the Johnson room to continue the night.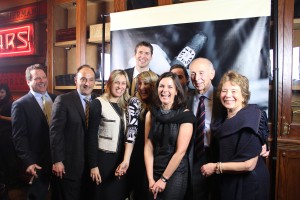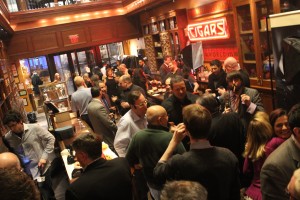 Down in the Johnson Room, I spoke with quite a few of the guests who were all enjoying the Timeless. I've said it before, and I'm sure I'll say it again, but one thing I've noticed about cigar smokers is just how friendly they are. I met a lot of new people, enjoyed plenty of drinks and great conversations. Everyone seemed to love the Timeless, and I can say without a doubt, everyone loved the warm welcome Nat Sherman had rolled out! Yet like all good things the night eventually came to an end, all too soon.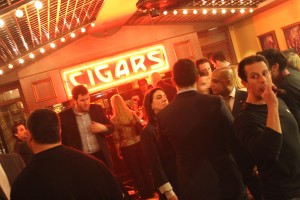 What a fantastic night, check out some more shots below and check out their website at www.natsherman.com. You can follow Michael Herklots (The Executive retail director and brand development manager) on twitter (@Michaelherklots), the Nat Sherman twitter is (@Nat42nd). Nat Sherman is also on Facebook, and quite actively engaging customers, so check out their Facebook page as well.