Guy Stuff; Easter Dinner with Cigar Pairing
People often ask me, "Peter how do I become a better man, a man like you?"
It is always hard to reply to this question. I mean, achieving my level of manly perfection was certainly not something I did overnight.  First off, you need to be born with a certain level of greatness to ever come as far as I have. Yet, also you need to constantly hone yourself, and in this I can help you. I can teach you lessons which, in time, will help chip away at the marble and reveal the perfection that may be hidden within.
Today's lesson is about doing Easter Dinner right. Now if you are like me you often spend Easter exactly the way you want to, alone. Now the key to having the perfect Easter is the meal, the after dinner treat, and of course the entertainment. Yesterday, I found the perfect balance between all three, and I think it would be a crime not to share this with you.
The Meal: 
What makes the perfect Easter dinner? Delectable Ham, fresh baked bread, and a full out spread. So obviously for my dinner I went with the Oscar Mayer Lunchables Ham & Cheddar Cracker Stackers. This package finds the perfect balance between affordability and flavor. It includes:
Oscar Mayer Lean Ham (Water added)
Kraft Cheddar Reduced Fat
Crackers
Vintage 2012 Capri Sun Fruit Punch (AKA "The Good stuff")
Jell-O Brand Fat Free Chocolate Pudding Snack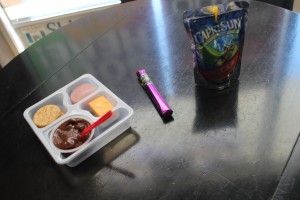 Now if you are a rebel like me, and all real men are, you start off your meal by cracking open that Jell-O Brand Fat Free Chocolate pudding. Eating desert first is what all the cool kids do, Sterling Archer does it, James Bond does it, Harvey Keitel does it, I do it, and now so can you.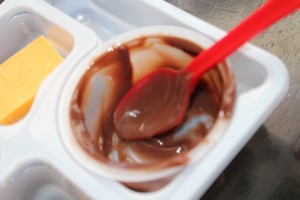 After polishing off the Jell-O Brand Fat Free Chocolate Pudding Snack it is time to move on to the main course, your delicious ham dinner. Some people like to make a little sandwich out of their ham dinner. This process entails you utilizing two of the crackers as bread, and placing a piece of ham and a slice of Kraft cheddar reduced fat cheese in-between them.
While this is fine for some, for men of action like us, it would never do. I prefer the "stacker" method of eating my ham dinner. The process is similar to the sandwich method, yet you continue it and build a layered sandwich. The package general contains just enough supplies to make two (2) of the triple stacker sandwiches pictured above.
IMPORTANT SIDE NOTE: Don't throw out the plastic container that your feast came in. It is going to come in handy later on in the process. 
So now you are done with your meal, what comes next?
The Entertainment: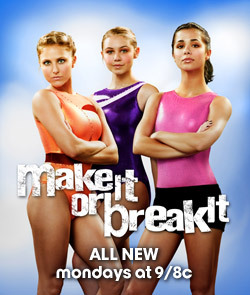 While I enjoy my entertainment, I also will indulge in my after dinner treat. But explaining both at the same time would expose you to far too much manliness. For the safety of my readers, I've broken this up into two sections. Now for the past few Easters (and Christmas, Columbus Day, pretty much any day I get off work) I've watched a marathon of my favorite show on Netflix. I'm talking about ABC Family's Make It or Break It, or MIOBI as us fans call it (here is a link to the Netflix overview page).
If for some odd reason you haven't heard about Make It or Break It, (like you live in a cave or have no sense of quality television) I'll tell you a little bit about it. Make it or Break it follows a group of teen gymnasts at the elite Rock Training Facility. Our protagonist is Emily, a newbie who is a natural gymnast, that arrives at the elite Rock training facility. She clashes with Payson, Kaylie, and Lauren who are already members of the gym training for the 2012 London Olympics.
The show is full of intrigue, blackmail, and drama. When ever I have time off, I love to just sit back and watch two or three seasons in a row. I found this to be a perfect follow-up to my Easter feast. I just sat down, pulled up Netflix, put on auto play, and the hours just flew by. Next thing I knew, I'd watched almost two entire seasons of MIOBI. While I was watching, I enjoyed my after dinner treat, a cigar with the perfect drink pairing.
The After dinner treat: 
After any big meal, I love to enjoy a fine cigar with a fine drink. For this Easter I decided to go with a White Owl Grape that has been aging in my humidor for several years now. I paired this White Owl Grape with the Vintage 2012 Capri Sun Fruit Punch that came with my Lunchables meal.
Size: 5.12 x 42.0
Wrapper: Connecticut Shade/Homogenized Tobacco Leaf
Binder: Mild Tobacco Blend
Filler: Mild Tobacco Blend
Strength: Mild
Body: Medium
Flavor: Full
Cigars Smoked For Review: 1
Construction and Appearance: Both the White Owl Grape Blunt and the Vintage 2012 Capri Sun Fruit Punch come in foil packaging to ensure the freshest product for the consumer. The White Owl Grape Dutch's outer foil packaging is purple with a picture of a white owl in the center. Above the picture it says "GRAPE" on the sides of it is says "White Owl" in yellow and below it says "Blunt Cigar".
I remove the outer foil packaging to reveal the beautiful golden brown wrapper of the cigar itself. The construction is completely seamless, and there appears to be no veins at all left by the homogenizing process that the wrapper has undergone. This is clearly a testament to the quality of this cigar.
Flavor and Notes: The wrapper of the White Owl Grape Blunt has notes of a rich concord grape and a bit of natural tobacco. The foot has a scent similar to the wrapper with the same rich concord grape and natural tobacco. Unlike most of the cigars I've reviewed cutting the White Owl Grape Blunt isn't necessary, the cigar comes already punched for the smoker's convince. On the cold draw there is a very rich sweet grape flavor.
Smoking Characteristics: The White Owl Grape Blunt kicks off with a rich body of sweet smoke and an excellent draw. The flavor is slightly nutty, with a lot of sweetness, and of course a rich concord grape which lingers on the palate and lips between draws. To call the grape flavor bold would be an understatement, it is very well defined, with the nutty sweetness playing only a subtle undertone. After the first quarter inch or so a nice natural tobacco flavor also joins the profile. During this first third the strength is more on the mild side, with only a very slight nicotine buzz kicking in. The Vintage 2012 Capri Sun Fruit Punch has notes of rich apple, cherry, and orange which pair wonderfully with the flavor of the sweet concord grape in the White Owl Grape Blunt.
The White Owl Grape Blunt's flavor profile offers little in the way of evolution, the first, second, and final third all have a very similar flavor profile. Yet, for what the White Owl Grape Blunt lacks in evolution, it more than makes up for it in complexity. The rich blend of bold sweet grape, nuts, and natural tobacco provide me with a more than enjoyable flavor. In terms of construction, this is a model of what every cigar should be. The draw is excellent, easily providing a medium body of rich, thick, cool, creamy, smooth smoke. The ash does flake a little, but holds well to the quarter inch mark, and the burn is very sharp. I smoke the White Owl Grape Blunt to the very nub, using my Lunchables tray as an ashtray (it works perfect if you don't mind a few smoldering plastic fumes).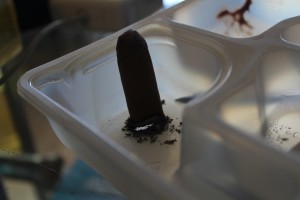 Conclusion: I could not have imagined a better Easter if I tried. The meal was amazing, the ham was absolutely succulent and delicious, making the perfect sandwiches. The entertainment was top notch. Nothing puts me in a better mood than watching my buddy Emily navigate the tricky world of competitive gymnastics. Yet, best of all was the cigar and drink pairing.
Whenever I want to pull out all the stops I reach for a White Owl Blunt. They come in several flavors, white grape, strawberry, peach, and of course my personal favorite grape. After smoking so many of these over the years I've come to learn that they are always consistent and flavorful. Now it is always hard to select a drink which could match such a high caliber cigar, luckily the folks over at Lunchables did my job for me. What a job they did too! The Vintage 2012 Capri Sun Fruit Punch was the perfect match for the White Owl Grape Blunt in every way, shape, and form. The best part of this pairing is that the cigar is mild enough that any smoker can enjoy its subtle complexities without having to fear a nicotine rush, and the drink pairing is non-alcoholic one so (once again) anyone can enjoy it.
Rating: 100! Not just for the cigar (which is the third cigar to ever receive this honor on our site) but also the drink, the meal, and the show! (check out the second cigar to get a 100 rating here)
MSRP: $1.85 for the cigar, $3.99 for the meal, and $7.99 a month to stream Make it or Break it on Netflix (which is the only show I watch on it).