Tuthilltown Distillery Tour – Trip Recap
One of my great passions, other than cigars, is premium spirits. For quite a while I tended towards gin and craft beers, but recently I've discovered the joy of whiskey. The past several months for me have been spent sampling out different bourbons and scotches to see which ones I liked best.
In my exploration of whiskey I happened upon a small bottle of bourbon which was shaped much like an old fashion pharmacist bottle called Hudson Baby Bourbon. The design of the bottle caught my eye, and I had been looking for something a bit more refined than the Bourbons I had been buying at the time. While the price did give a bit of a pause when making the purchase ($35 for a 375 ml bottle which basically makes it twice the price of you average premium bourbon), I decided to try it out anyway.
After the first sip I was hooked, I had to know more about this Bourbon. I went to their website and started reading about the company when I realized that the distillery (Tuthilltown Spirits) (facebook link) was located in Gardiner, New York which is only about an hour away from where I live. Not only that, but they also offered a tour for $15 which included a complimentary tasting and glass. Being the type of consumer that always wants to learn more about a product, I found that to be quite the bargain.
The Tour:
That weekend I made the trip down to the Distillery to see what they do firsthand, and to learn about the brand from its source.  Tuthilltown Spirits is nestled in a small, almost picturesque upstate New York town, a veritable example of small town America. The grounds were a bit smaller than I had expected, but looked exactly how one would picture them. The tour started in the tasting room/gift shop which was a small wooden building.
The staff was very friendly, the style of hospitality reminded me of how much I missed spending time in smaller towns where everyone is just a bit warmer and friendlier. As the tour started, the guide explained to us the history of the distillery, which opened more by chance than anything else.
Ralph Erenzo had a much different vision when he purchased the property back in 2001. At the time, he wanted to utilize the bluffs on the property to opening up a rock climbing camp, yet the neighbors and locals were against it. Once that project was shut down he had to decide what to do with this property he had acquired, and ended up partnering with Brian Lee , and Gable Erenzo (Head distiller and Ralph's son) to open the first Distillery in New York State since prohibition.
None of them had much experience in distilling before opening Tuthilltown spirits, but Brian happened to be quite mechanically inclined having done technical work for many years. They decided to start fresh, and spent two years touring distilleries and learning about the distillation process.
Tuthilltown's entire process is very hands on, there is little to no automation involved from start to finish. All of the corn and grain used in their whiskeys is non GMO, and sourced from within 10 miles of the distillery itself. In fact, the strain of corn they are using is extremely old, and while they aren't certain if they are the only ones still growing it, certainly no one else is making whiskey with it.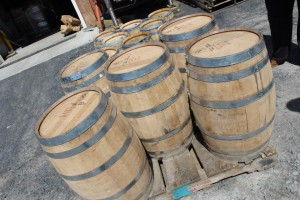 During the tour we learned about how Tuthilltown is striving to be as environmentally friendly as possible, installing already a three sets of solar panels outside of the barn where the distillation takes place. They are striving to be "off the grid within the next 5 years. The tour guide also spoke about the resourcefulness of the team and how their process is constantly being refined.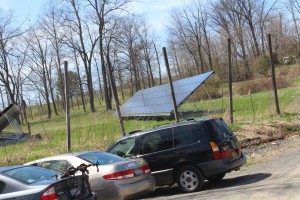 Anytime they hit a bottleneck in production, they see what they can do to overcome it. For example, they recently installed a dairy chiller which they use to chill the mash after cooking it (to break the starches down into sugar for fermentation) before placing it in the fermenters. They also recently installed new temperature controlled fermentation tanks which optimize the yeast's ability to ferment that mash into alcohol.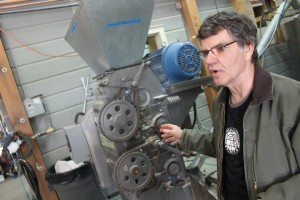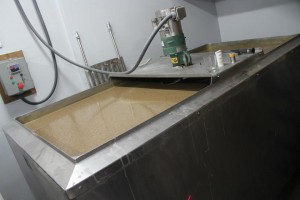 Rather than turn their barrels during aging (which insures a better contact of spirit to wood) they use base speakers to vibrate the barrels. In fact they actually had a sound engineer measure the aging room and take into account barrel placement to find the perfect sound wave to optimize this process. After the first batch was aged using the new sound wave they were able to taste the difference instantly.
The whole process has remained quite hands on, during the tour (which was on a Sunday afternoon) the distillers were still hard at work. The bottling room may be the best testament to just how small batch these distillers still are. The room itself is quite small, and has a single bottling line featuring one set of automated fillers. Each bottle is hand inspected to make sure there are no particles that settle to the bottom. Then the bottles are dipped into wax by hand to seal them, and cooled off in a bucket of ice water. At the end of this process each label is still applied by the single hand cranked labeler that Tuthilltown uses on their line of products.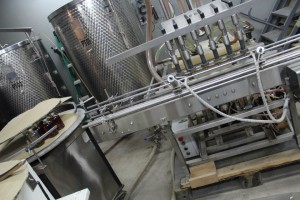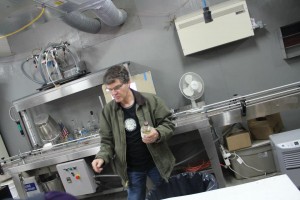 The tasting:
After the tour we were led back to the tasting room for our taste test. Laid out for us was a selection of simple syrups, tonic, bitters, and of course their line of spirits.
Hudson Baby Bourbon: This was the original spirit that Tuthilltown made, and is aged mostly to taste. It is made of 100% corn and has a beautiful deep amber color. In terms of flavor there was a well defined sweetness with a bit of roasted corn, the finish was warm, with only the slightest burn.
Hudson Four Grain Bourbon: Made from corn, rye, wheat, and malted barley, this bourbon is packed with flavor. There are notes of oak, vanilla, corn, and a nice rich sweetness. With a few whiskey stones in the glass I could see myself sipping on this all day.
Hudson Manhattan Rye Whiskey: This whiskey has a bold blend of spices up front on the palate, but a nice rich honey on the backend with a light buttery feel that lingers after you take a sip.
Hudson New York Corn Whiskey: This is the unaged foundation of the Baby Bourbon line, a 100% corn whiskey. The flavor is similar to buttered popcorn, and the whiskey is incredibly smooth, sweet, and warm.
Half Moon Orchard Gin: I've always found it hard to describe the flavor of gin, there is just such a rich sweet herbal and fruity mix with a bit of grain it is hard to pinpoint any one given flavor for me. While I've tried dozens of Gins, I can say with certainty that Half Moon Orchard is already my favorite. The aroma alone is so much richer than any other gin I've tried, and the flavor is simply phenomenal. When made with the Jack Rudy Tonic that they sell, this makes for a gin and tonic like nothing else I've ever tried.
For a brand with quality, integrity, and superior taste look no further than Hudson Whiskey / Tuthilltown Spirits.