Cigar Review: Nica Rustica by Drew Estate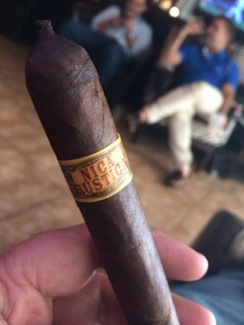 While I spend my last few weeks in Miami I was gifted today's review by one of my friends that I will miss, Garrett. As I get ready to move to a yet to be disclosed location, I've been spending my time at one the best shops in Florida, Cigar Cellar & Lounge.
I will say this, my footprint in the industry has only just begun and I look forward to bigger things and an exciting new partnership.
Size: 6 x 52 (Toro)
Wrapper: Connecticut Broadleaf
Binder:  San Andreas
Filler: Nicaragua
Strength: Medium-Full
Flavor: Full
Cigars Smoked For Review: 3
Construction and Appearance:  The wrapper of the Nica Rustica has a slight brindl like effect to it and feels gritty under the fingers. The cap of the cigar features a pigtail reminiscent of the hair that stands up straight from Alfalfa's head in the Little Rascals and the foot is closed which happens to be something I personally love. The cigar is firm under the fingers with a nice weight to it as well.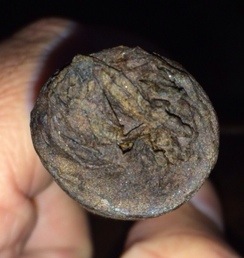 Flavor & Notes: The cold draw of the Nica Rustica has nutty notes with hints of bread and leather while the foot serves up subtle cinnamon to the nose. On the initial light there is a distinct taste that is like charred wood, similar to the smell left behind by the dying embers within a fireplace on a cold winter day. The first third of the cigar continues with dominant wood notes with earth and a touch of undefined sweetness. In the second third of the El Brujito, the
wood remains but the sweetness defines itself as a bittersweet dark chocolate. Just before the transition to the final third a subtle cherry note appears albeit it briefly.


Smoking Characteristics: Like many cigars from the Drew Estate factory there is a lot of smoke production and I for one love the visual of this on a cigar. The burn line was jagged at times and needed a touch up a couple of times prior to the half way point but was razor sharp from that point forward. The draw was perfection and the aroma was woodsy. The nicotine levels creep up on you and become noticeable in the final third. The final third of he cigar remains the same with strong wood notes, subtle bittersweet chocolate and hints of leather.
Conclusion: While the cigar wasn't as complex as I prefer I can see where this cigar would be enjoyed by those who like the straight forward flavors that the Nica Rustica has to offer and the price point is dead on.
Rating: 89
Price: $7.00