Happy 2012! Changing of the Guard at acigarsmoker.com
Welcome to the new year and I hope everyone had a safe and happy holiday season. Most importantly, thank you for visiting acigarsmoker.com!
acigarsmoker.com has changed hands due to Barry Stein being hired at Miami Cigar & Company, representing the La Aurora brands of cigars and Tatiana and Nestor Miranda cigar lines.
I would like to congratulate Barry Stein on his new position at Miami Cigar & Company and know he will be an asset to the marketing staff working with Jason Wood. You have not heard the last of Barry! He has relocated to Miami, converted to Cuban coffee daily, and even sworn off wearing socks!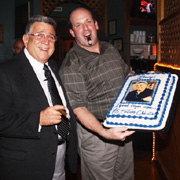 Allow me to introduce myself. My name is Kevin Paige and I own Butthead's Tobacco Emporium in Danbury, Connecticut. I have three stores and have been a cigar smoker for over 25 years and in the business for nearly 23. I founded Butthead's in 1999 while owning a convenience store I bought in 1989 at the age of 22. My three stores carry over 2,300 open boxes of cigars and fully support the worlds great cigar makers. We have weekly events at our flagship Danbury location as well as other off-premise events to share our love of the leaf. I personally visit as many stores and cigar lounges as I can wherever I travel.
Why buy a blog? To share my love of the business. It is very important to me that there are as many places to smoke and enjoy cigars as possible. I expect to use this forum to do just that. What Barry has developed with this website is nothing short of incredible. I have followed Barry's reviews for some time now and developed a friendship during that time. Barry was forced with shutting this site down or transferring it to someone who would care for the site and the industry just as he does. …I have big shoes to fill.
That being said, we will have cigar reviews, people, places, and all things cigar (and maybe scotch) just as Barry did, and if I can help it, just as much wit and fun! I also will continue to promote and share dialogue and content with the rest of the blogger world that contribute to our enjoyment of that bond we all hold, the cigar.
Feel free to comment and suggest ideas, cigars, places and events that we can share with you. We will be reporting from The Dominican Republic in March from the Cigar Family Celebration 2012 and of course from the floor of the IPCPR in August at the Orlando Convention Center.
I have in-depth sit down interviews scheduled that go beyond wrapper, filler and binder with many of the people who make the cigars you enjoy. We will also be adding a discussion board later this spring.
I would like to thank all the people, fellow bloggers, manufacturers, field reps, and store owners who heard about this news through the grapevine and have reached out to offer support and encouragement as I start on this blog adventure. Hang on for the ride and happy smoking! Enjoy!
Kevin Paige