Leon Jimenes Prestige Robusto Tubo – Cigar Review
As Barry Stein would have begun, I will say that I have picked this cigar for many reasons.
First of all, Barry Stein is now getting settled in at Miami Cigar & Company and I would like to pay tribute by reviewing one of the cigars that he will be selling. We showed the preview of the Prestige in our 2011 IPCPR La Aurora Preview last summer.
The second reason is that this cigar was given to me by Guillermo Leon himself at a reception I attended at the Grand Havana Room in NYC on October 26, 2012. The event was to celebrate the addition of Presidente Beer to the liquor lineup at the club. For those of you who do not know about Grand Havana Room, it is on the top floor of the Citi Building on 5th Ave at 52nd st in Manhattan. This exclusive club hosts many a famous member. The lounge area itsself boasts dozens of  leather chairs and cocktail tables to relax well into the evening.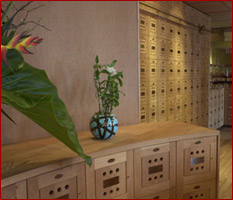 The bar area looks over an incredible glass wall humidor housing an impressive wall of private lockers and a collection of prized vitolas. An entire corner of the club is dedicated to a formal reception banquet room that would impress even The Great Gatsby's guests.
Upon arrival, each guest received a sampler of Miami & Company/ La Aurora cigars which included the Prestige. Other attendees included Michael Herklots from Nat Sherman, Ron Melendi from De La Concha, Rene Castaneda from Miami Cigars, and Mario Takayama from Cigar Explorer.
I have a particular fondness for being able to smoke a cigar with a blender or company owner. Who can better explain what they were trying to create with a particular cigar? So as I was being introduced to Guillermo Leon by Nestor Miranda of Miami Cigar, I asked Guillermo which cigar he preferred. He immediately pulled a Prestige from his jacket pocket and told me I should start with the Prestige. I gently toasted it and enjoyed a wonderful evening with the Miami Cigar – La Aurora family.
The second cigar which I had saved for a later time has now become the source for this review and so I shall begin.

CIGAR: Leon Jimenes Prestige Robusto Tubo
VITOLA: 5 x 50
WRAPPER: Dominican Corojo
BINDER: Dominican
FILLER: Nicaragua & Dominican
Appearance: The Leon Jimenes comes in a blue on blue metal tube with gold writing which is a nice modern look for an older brand. The cigar is nested in cedar and snuggly fits in the tube. When removed, the wrapper, nearly blonde, has some fine veins and tooth with a beautiful sheen from the oils. The cigar is rolled to perfection with a nice weight and a firm feel in the hand. There are no soft spots on this nicely rolled cigar.
Notes: The pre-light draw of the cigar is raisin and earth while the foot is nutty. The first third of the cigar has a significant amount of wood with a rich butter like smoothness.  In the second third the Prestige continues with the nutty notes from the pre-light with some bread notes and a subtle spice. The last third of the cigar builds with spice, but does not overpower with continued nuts and earthiness leaving a clean but pleasant palate.
Contstruction: The burn of the Leon Jimenes is a little off center but it burned all the way through without needing any touch up. The ash was firm and the draw perfect. The stick produced a fair amount of smoke with a subtle aroma.
Overall: The Leon Jimenes Prestige packaging breathes new life into an older brand. The Leon Jimenes Maduros were a favorite of mine in years past. While billed as medium bodied, the cigar is on the milder side of that spectrum but met all of my expectations of this cigar.
Rating: 90
Price: 8.50
Note: Although the cigar was given to me by Guillermo Leon, my impressions remain consistent after smoking this cigar a second time. Recommended for a lighter cigar smoker who is looking for more flavor or a great mid-day smoke without too much strength.