My Father Federal Cigar 91st Anniversary Release 1/31/12
Today, Federal Cigars of New Hampshire, as part of their 91st anniversary, releases My Father Le Bijou 1922 Federal Cigar 91st Cervantes. This is just one of the cigars they have planned for their 91st anniversary. It has a modified Le Bijou blend, and there will only be 200 boxes available to mail order customers. Exclusively at any of the Federal Cigar or Top Shelf locations in New Hampshire, there will be 50 boxes with a special Ecuador-Connecticut wrapper. Last year for their 90th anniversary they released the Tatuaje Federal Cigar 109 (reviewed by Cigar in Hand here), E.P. Carrillo Short Run 2010 No.4 (reviewed by Cigar Coop here), and Arturo Fuente Federal Queen B (Product page from Federal Cigar here).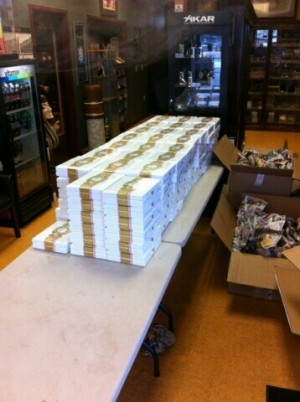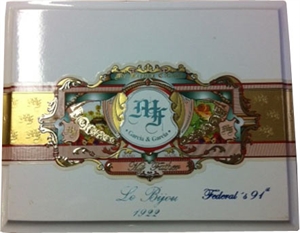 Orders being taken NOW! You can read more from Federal Cigar's page here.
About Federal Cigar:
Federal Cigar began its rich history in 1921 – when it opened the doors in downtown Portsmouth as United Tobacco. The United Tobacco location was run successfully for nearly 20 years by Melvin Goodman, when in the 1930's United Tobacco began closing location across the country.
Having become a staple of the Portsmouth NH area, Mr. Goodman purchased the location in the late 1930's. It was then that he officially changed the store name to Federal Cigar. Mr. Goodman owned and operated the store until his retirement, when in 1960 he sold to Harold Silverman.
During Mr Silverman's ownership,Federal Cigar became a place of congregation in bustling downtown Portsmouth. Becoming a center for politics, current events, town business and more.
In 1981 the company was passed on to Leonard Segrin. The company was in the right hands, and continued its long history of quality, community, and service in Portsmouth NH.
The new age of Federal Cigar came to life in July 2008, when the company was purchased by Rick and Meghan Gadway. In less than three years the company has been expanded to four locations serving all of South East New Hampshire.
Our company has a long and rich history in the local community as experienced, knowledgeable, and professional tobacconists. Now with the most advanced online technologies and dedicated customer support team, we have brought our experience, industry connections, and quality products online for the world to experience.