King Havano Black Knight Mace – Cigar Review
Today I am reviewing the King Havano Black Knight Mace from Oliveros Cigars, the makers of Swag and Aging Room. The Black Knight Mace is a Nicaraguan puro made with 100% ligero tobacco. I have to admit, I'm always a little intimidated when I light up a cigar that is made with all ligero, sometimes it ends up being a little overpowering. The Black Knight Mace is no exception, with its jet black wrapper, that is steeped in oil, I have to admit I'm a little worried. Make sure to follow Oliveros on twitter (@OliverosCigars).
Size: 6 x 60
Wrapper: Nicaraguan
Binder: Nicaraguan
Filler: Nicaraguan
Strength: Medium to Full
Body: Full
Flavor: Full
Cigars Smoked For Review: 1
Construction and Appearance: The King Havano Black Knight Mace has a very dark black wrapper, nearly black as knight. It is a very well-packed box press, with a nice oil to it, and only slight veins. As all box presses do to me it, it just feels right when you hold it. I've come to strongly prefer box presses simply because they just feel nice when you smoke them. The band on the Black Knight near the foot features the cut out of a Knight's helmet and says Black Knight the upper band is quite remarkable with a mix of white, gold, and brown trim with the words "King Havano".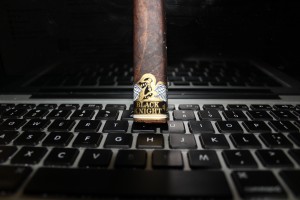 Flavor and Notes: The wrapper of the King Havano Black Knight has notes of cocoa, hay, and rich spices. The foot has the same notes of cocoa, hay, and spices, combined with some coffee and mocha. I go with a straight cut on this behemoth of a cigar, which really does feel like a mace. On the cold draw there is a mix of spices, coffee, and cocoa.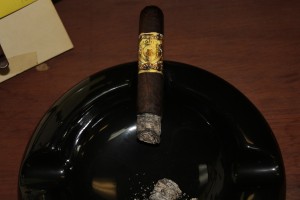 Smoking Characteristics: The King Havano Black Knight Mace starts off with a bit of leather, deep rich spices, white pepper, and a light cocoa. The draw is easy and produces a full body of smoke effortlessly. The smoke is rich, cool, full, and just packed with flavor. The strength starts off fairly strong, coming in around medium to full. After the first inch the pepper fades out a bit and is replaced with a coffee flavor.
Into the second third the spice starts to fade out of the flavor profile but lingers on the palate between draws. The flavor is still a rich blend of leather, cocoa, and coffee. In this third a bit of light molasses and earth has been added to the profile and it starts to take on an overall lightly sweet tone. The draw is still excellent, easily producing a full body of smoke, which still billows out of the cigar between draws. The strength builds a bit during this third coming in at just under full.
During the final third the flavor profile doesn't shift much. The spice is still only lightly present in the smoke, but lingers on the palate. The notes of leather, coffee, earth, and light molasses all remain. The cocoa flavor builds a bit to become more of a dark chocolate. In terms of construction the Black Knight still stands up well. The burn is razor sharp and requires no attention with a solid ash holding at the end of the mace at every point during the smoking experience. The draw is still perfect and the strength builds up a bit now, reaching the full point. A nice buzz sets in, yet not strong enough to be offensive.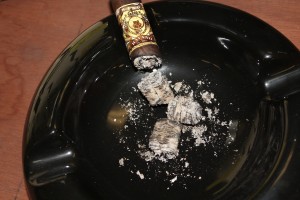 Conclusion: I'm glad this stick didn't turn out to be too much of a powerhouse. It was certainly strong, building towards full at the end, but not strong enough to make me light headed. The flavors were wonderful, rich, fully developed, well blended, and a bit complex. In terms of construction there are no complaints what so ever, the burn was razor sharp, the ash held firm, and best of all the draw was simply perfect. I'd strongly recommend trying a King Havano Black Knight, it might just be my favorite Oliveros offering.
Rating: 91
MSRP: $9.50