Rocky Patel Valedor Torpedo – Cigar Review
Today I am reviewing the Rocky Patel Valedor NRA edition. I have to say a cigar like this makes sense, most cigar smokers do love their rights. Often in shops I will overhear a heated debate over one issue or another, and almost always everyone is on the same side which is that the government is wrong for taking rights away or taxing something. It seems rare for anyone to attempt to play devil's advocate. When it comes to gun rights, most smokers that have spoke of it in my presence seem to agree. While not all are packing heat themselves, most seem to not care if someone else does.
Gun rights aside, here's a little info on the Valedor. It is a B&M exclusive which comes in three sizes, robusto 5 x 50, torpedo 6 x 52, and 6 x 52 toro. It has a Ecuadorian Sumatra wrapper with a Nicaraguan binder and a mix of Nicaraguan and Honduran fillers.
Vitola: Torpedo
Size: 6 x 52
Wrapper: Ecuadorian Sumatra
Binder: Nicaraguan
Filler: Nicaraguan and Honduran
Strength: Mild to Medium
Body: Full
Flavor: Medium
Cigars Smoked For Review: 1
Construction and Appearance: The Rocky Patel Valedor has a light brown wrapper with a bit of a reddish tint and some light veins. It comes with two bands, the lower one says Rocky Patel in red on gold. The top one has a large "V" inside of a pair of wings above the word Valedor, and below that, National Rifle Association. 
Flavor and Notes: The wrapper of the Rocky Patel Valedor has notes of cedar, hay, and nuts. The foot has notes of cedar, coffee, and hay with a overall sweet tone to it. I go with a straight cut towards the middle of the torpedo cap and on the cold draw there are flavors of hay, nuts, and some spice.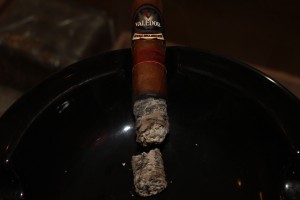 Smoking characteristics: The Rocky Patel Valedor opens up with a little bit of an Asian spice, not enough to be overpowering, with lots of toasted and woody flavors. After the first inch the spice mostly dies off, but still lingers on the palate a bit. After the first inch most the spices dies off and the flavor is mostly roasted with some cedar, and nuts, somewhere between walnuts and almonds, and some coffee as well.
Into the second third the flavor remains fairly consistent, just a bit more roasted flavors in the profile. The smoke still warms the palate slightly. The strength comes in around mild to medium, but at closer to the medium range. The smoke is cool, rich, and full in body. The burn is very even, nearly razor sharp, having required no touch ups. The ash holds firm easily to the inch point.
During the final third the spice starts to return, mostly a blend of Asian and cedar spices. The roasted flavors remain along with notes of nuts and coffee. The body of the smoke is still very full, cool, and rich, yet a bit dry. The draw and burn remain fantastic with no issues whatsoever.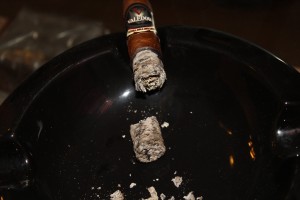 Conclusion: The Valedor is a great stick that I would recommend to a new smoker looking to step up from the really mild end of things. The construction was excellent with a great body, burn, and ash. I however expected a lot more of a punch from this stick, both in terms of flavor and strength, simply because it is a stick made for protest.
Rating: 88
MSRP: $8.50