News: Griffin Releases Gran Robusto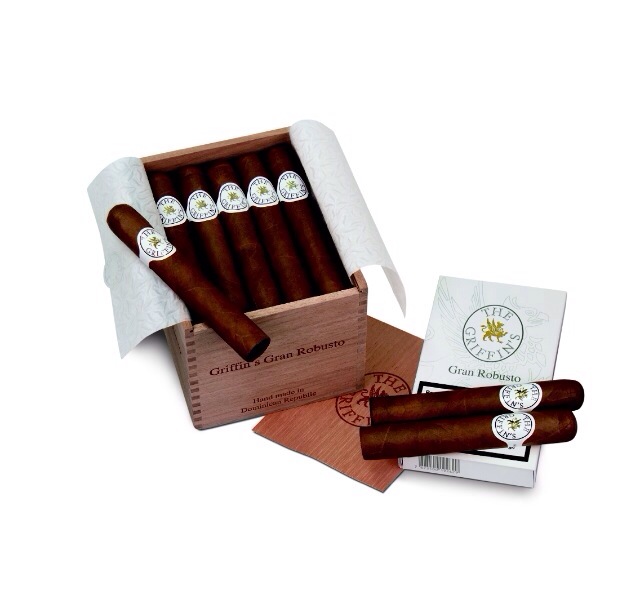 New, trendy and modern—Griffin's is launching the Gran Robusto, an innovative format to the line
Basel, April 2014. With the creation of this innovative Gran Robusto, the renowned and popular cigar brand Griffin's responds to the desire of modern aficionados to discover and enjoy a multi-faceted and well-rounded cigar experience. The new Griffin's Gran Robusto is perfectly balanced and proves to be an ideal companion to follow a light meal.
The Dominican filler tobaccos (harvested in the Cibao Valley) and a Peruvian binder with a beautiful Ecuadorian wrapper lend this cigar a mild-to-medium strength. This new format is slightly longer and has a bigger ring gauge (RG 52) than a typical Robusto.
When the cigar is cold, the wrapper leaves an enjoyable bitterness with flavours of dry earth and wood on the lips. As soon as the cigar is lit, its flavours will remind aficionados of green grass and wet wood. In the second and last third of the tasting experience the aromas get more and more complex. The unique composition of the Griffin's Gran Robusto's tobacco leaves provides this cigar with a harmonious blend. A sweet, not too heavy rum, or a light single malt whisky would pair perfectly with it.
The new Griffin's Gran Robusto is available worldwide as of May 2014 (in boxes of 25 and etuis of 4 cigars) from selected specialist tobacco retailers.
Format Gran Robusto
Length 13,6 cm; 5 3⁄8 "
Diameter 2,1 cm; RG 52
Wrapper: Connecticut Ecuador
Binder: Pelo de Oro Seco
Filler: San Vicente Seco, Piloto Visus and Olor Visus
Price: US $ 10.80 (per cigar); US $ 270.00 (25-piece box)