News: Tobacconist of Greenwich to Open Davidoff Lounge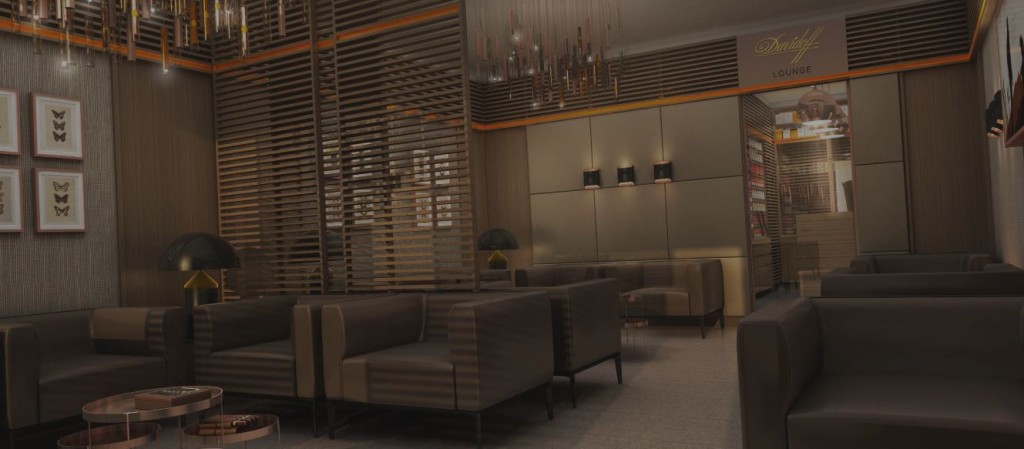 Davidoff Lounge, The Tobacconist of Greenwich, and Smith Party Rental's have all teamed up to open Greenwich's First Ever, Private Cigar Lounge and Tobacconist…
With a combined 100 years of business tradition in the Town of Greenwich, they are committed to create a Country Club for cigar smokers. The NEW Davidoff Cigar Lounge of Greenwich will be an exclusive escape for all to enjoy their favorite cigar in a sophisticated setting.  The 2,700 sq ft lounge is professionally designed, with distinct elements expressly created for the Davidoff brand. It will be conveniently located at 79 E Putnam Ave, across the street from Whole Foods.  Beautiful hardwood floors, leather furniture, soft lighting, outdoor seating and luxury décor are some of the amenities that will be available to you.
The lounge area has been configured within 3 partitioned rooms, allowing for a private and intimate setting. The 1,200 sq ft additional conference room has a grand entrance, consisting of 2 smoked glass doors, a magnificent conference table and other furniture to allow you to hold board meetings, private dinners or quality time with friends. Customhumidified lockers will be offered to members to stock their personal cigars securely.
* There will only be a limited number of memberships sold.
* Construction is tentatively set to be completed in July of 2014.
* They will be open 7 days a week, 12pm-10pm M-Th, 12pm-12am F-Sa and 12pm-9pm Sunday. During the NFL season, they will stay open later on Sunday and Monday for the games.
* 36 parking spaces available after 5pm, 7 days a week
* Free WiFi and other technologies to make life easier when trying to conduct business.
* Hi Def Televisions throughout the Lounge member enjoyment.
* STATE OF THE ART ventilation and air purification for a clean odor-free environment.
* There will be catered private events and functions for members.
* PRE-OPENING Membership sign-ups are available. The pricing that is available now, will only be available pre-opening.
* A Soft and Grand Opening will be announced very soon.
Membership levels and benefits can be seen here. You may also visit www.davidoff-lounge.com for additional pictures and plans.
Please call 203-869-5401  and speak to MICHAEL CAFAGNO for further information.